08/03/2020
Great Women on Great British Menu 2020
We are delighted that Great British Menu (GBM) is returning to our screens on 18th March 2020 for series 15. The BBC Two show puts the nation's most talented chefs to the test. At Women in the Food Industry we were pleased to see women making up a quarter of the chefs from across Britain who will be competing to serve their dish at the final banquet.  This year GBM has been re-vamped again with more dishes, more chefs and a new presenter.
New for 2020 we will see four chefs competing in each region rather than three, there are extra courses in the form of an amuse bouche and pre-dessert palate cleanser and to make it even more nerve wracking for the contestants the chef with the lowest score after cooking their starter and fish course will be sent home, and so won't get to present their main course and dessert.  This year's Great British Menu theme is children's literature so we can expect to see variations on Willy Wonka's Three-Course Dinner Gum right through to the delights of  Alice in Wonderland's Mad Hatter's Tea Party.
Judge Andi Oliver said: "I am so thrilled about the theme for this year's Great British Menu. Books have always played a pivotal role in my life, so celebrating 150 years of children's literature fills me with such joy! The kitchen is buzzing with creativity and we have a whole new family of exciting, inspired chefs to introduce you all to. This year is truly astonishing and moving, I can't wait for everyone to experience it too."
In another new element for Great British Menu 2020 comedian Susan Calman has also been added to the mix as presenter and she will be talking to the chefs while they are plating up and finding out more about their work.
Last year we were delighted to interview all of the women chefs taking part in Great British Menu 2019 and this year we are doing the same.  Let's have a quick look at the women representing their regions for 2020. Clicking on their names takes you to our interview with them for 2020!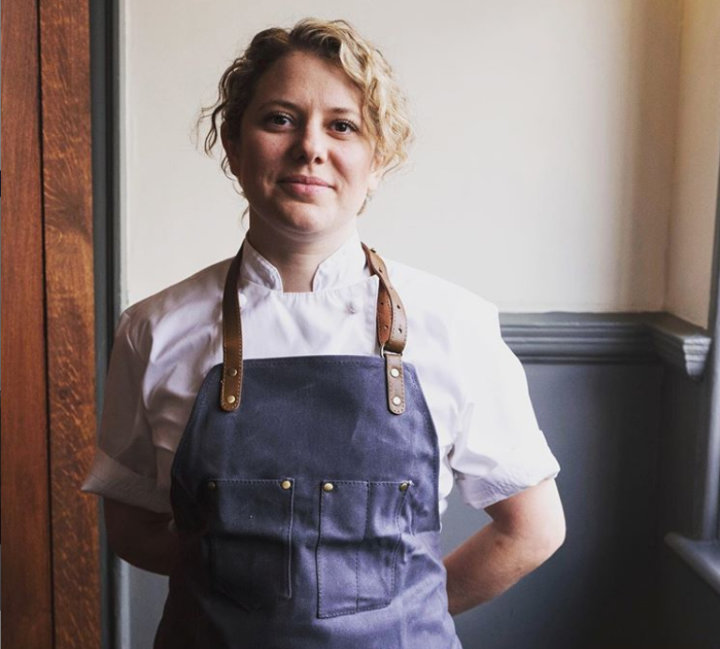 Representing the Central region is Sally Abé , head chef of the only Michelin-starred pub in London, The Harwood Arms . Sally was also announced Gastropub Chef of The Year for 2020 and originally is from Mansfield, Nottingham.
Shauna Froydenlund makes her second appearance on Great British Menu and represents Northern Ireland. Originally from Londonderry Shauna moved to England as a culinary arts student. Shauna and her husband Mark are now chef patrons and business partners of Marcus Wareing's eponymously named restaurant Marcus.
At 20, Georgia Sommerin will be the youngest ever competitor on Great British Menu. From Penarth, Wales, Georgia started working part time at her father's James Sommerin's restaurant since she was 13.  Now a full time senior sous chef at Restaurant James Sommerin, so will be representing Wales with cuisine using local produce.
Two women head chefs making their debut on Great British Menu are amongst the four representing Scotland. Roberta Hall-McCarron is Head Chef of The Little Chartroom in Edinburgh. Under her helm The Little Chartroom won best Newcomer at the Edinburgh Restaurant Awards in 2019. Roberta herself was voted Breakthrough Chef of the Year at the Food and Travel Awards 2019.
Amy Elles is Chef Patron of The Harbour Cafe in Fife which she runs with her husband Jack. She will be representing Scotland and will be using local ingredients in her dishes on the show.  Amy is passionate about creating food that is good for the soul and as a mother of three children is looking forward to producing some creative dishes based on bedtime stories.
Also new to Great British Menu is Harriet Mansell who is representing the South West. Harriet has a degree in politics and history but decided to follow her passion for food and worked with Mark Hix and took an internship at Copenhagen's award winning Noma Restaurant. She's now opened a pop-up restaurant Robin Wylde in Lyme Regis.
Two women chefs will be representing the North East. We are delighted to see Samira Effa returning the Great British Menu, after making her debut on the show in 2019.
Samira is a senior production chef for TRUEfoods which develops premium products for the food and restaurant industry. She began her career working for two weeks work experience in a local restaurant in Huddersfield where she's originally from.
Ruth Hansom, Former Head Chef of Pomona's in Notting Hill, London will also be in the North East heat.  We've been lucky enough to meet Ruth a few times and also got to sample her lunch menu when she took over the kitchen at Pomona's in Spring 2019.  Since then Ruth went on to compete to represent the UK in the Bocuse d'Or and you can catch our short podcast with Ruth  Hansom about that experience.
We look forward to talking to all of the female contestants on the show. We'll discover what inspired their dishes and what it's like working under the pressure of an unfamiliar kitchen with a TV crew filming their every move.
You can also catch up with our  interviews on  the following amazing women who appeared on Great British Menu in 2019 –  Sabrina Gidda of Allbright, Emily Scott of St Tudy Inn, Lorna McNee of Restaurant Andrew Fairlie, Gleneagles,  Samira Effa formerly of The Alimentum and Cindy Challoner formerly of The Classroom. They all performed amazingly and did their regions proud.  Lorna McNee  not only made it through to the banquet in 2020 but was also voted Champion of Champions but the guests.
View all news