03/10/2019
Ruth Hansom on competing in Bocuse d'Or National Selection – Podcast & Interview
We had the wonderful opportunity to catch up with Head Chef, Ruth Hansom, of Pomona's on Hereford Road in Notting Hill who  joined the line up of chefs who competed in the Bocuse d'Or National Selection on 30th September at The Restaurant Show. The Bocuse d'Or,  is the world's largest and most prestigious cooking contest and Ruth was the only female chef to make the finals to represent the UK. Our co-founder, Mecca Ibrahim, spoke to Ruth about the competition behind the scenes at London's busy Olympia Exhibition Centre in our podcast and interview.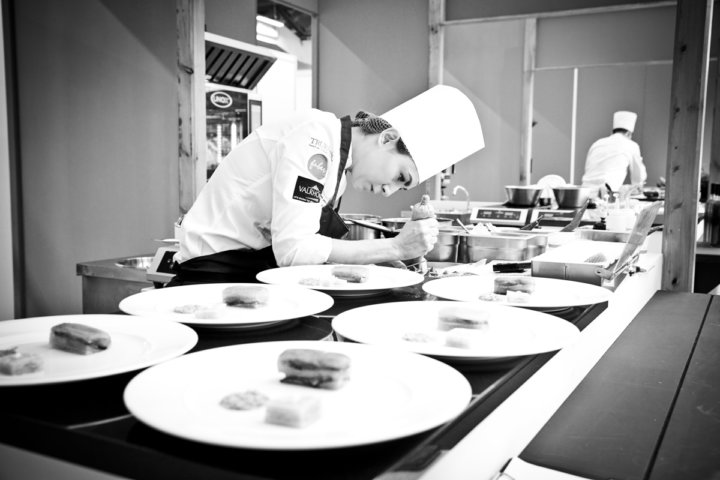 Photo by Jodi Hinds
Ruth Hansom joined Pomona's as Head chef at the beginning of May 2019.  A former winner of Million Dollar Menu, in 2017 she became the first woman to win National Young Chef of the Year. She was also The Royal Academy of Culinary Arts Michael Bourdin Scholar in 2016, Ruth now has some ambitious and creative plans for Pomona's restaurant.  Before that we spoke to her about her experience at the Bocuse d'Or selection
Ruth was competing against the following  chefs  – Luke Selby, Great British Menu winner 2019 and Roux Scholar 2017-2018 and National Chef of the Year 2017-2018, Robert Sussex National Chef of the Year 2019 semi-finalist and Ian Musgrave, sous chef at The Ritz London and British Culinary Federation Chef of the Year 2018 National Chef of the Year 2017-2018.
Our friend James Haywood from OpenKitchen was on hand to record a short podcast where you can hear Ruth discuss her experience of making the finals and her future plans for Pomonas.
On iTunes: https://podcasts.apple.com/gb/podcast/ruth-hansom-on-competing-in-bocuse-dor-national-selection/id1468957026?i=1000452143154
On SoundCloud: https://soundcloud.com/user-202066196/ruth-hansom-on-bocuse-dor-national-selection-podcast
On Spotify: https://open.spotify.com/episode/2p5n6Xk0TI447FYJjuTAyi
Discover some more of Ruth's reactions and plans below.
Ruth Hansom & her commis chef Ben Dullea – Photo by Jodi Hinds
How was the experience for you Ruth?
It was a good experience, you go into something like this completely blind as there is no other competition quite like this. It's world standard. It was great to be involved in.
How different was this from any other competition you entered?
You have a very strict period of time and window to present your dishes which you can't miss and if you are late at all you get penalised. You also have a commis chef to assist you. The garnishes are also very intricate and almost like a dish in themselves.
Photo by Jodi Hinds
What was it like cooking for such a stellar line up of chefs including the likes of Pierre Koffmann, Simon Rogan, Tom Aikens, John Williams, Simon Hulstone, Ashley Palmer Watts and Brian Turner?
It's always a bit nerve wracking first off when you see them all,  but after about five minutes or so you get what I call "in the zone". But when you're cooking you're running like crazy. It's only before and after that it sinks in who you have been cooking for.
Photo by Jodi Hinds
What are your plans after the competition?
I'd love to shadow Ian Musgrave from the Ritz (he was announced winner and will now compete for a place in the world final in the European heats in Tallinn, Estonia in June 2020). It would be a great opportunity to see some of the skills that he is learning and will be great experience for when I enter again.  Also with Pomona's the menu is ever evolving and we've moved away from children's menus. I am also filming for another competition which I can't talk about at the moment.
What advice would you have for other chefs wanting to enter competitions like Bocuse d'Or ?
You need to have self belief. You might not have always had a great day when you get home, from work but you need to put that behind you and and learn from all of your experience. It 's the same with competitions, you need to see them whether you win or lose as a way to progress. I have had some amazing, valuable and priceless feedback from the judges, and that doesn't happen unless you enter and put yourself out there.
View all news