05/08/2019
Interview with Nokx Majozi Sous Chef at Holborn Dining Room
Feast your eyes on a veritable Aladdin's Cave for pie lovers and one of most amazing Private Dining Rooms we have ever had the pleasure of being in. Our co-founder, Mecca Ibrahim, visited The Pie Room at Holborn Dining Room at the 5 Star Rosewood London Hotel to chat to their Sous Chef, Nokx Majozi about her inspirations, how professional kitchens are changing for the better since she has been working in London and what it's like working with Executive Chef Calum Franklin.
Could you tell us a little about your background and how you got into cooking in the first place?
Originally I'm from South Africa and I used to cook a lot with my father. I grew up in a big family and often being in the kitchen was one of the best ways to spend time by myself with him. I had a three year apprenticeship in the US working for Disney and then the Intercontinental Hotel in Miami. I moved to London initially on a 3 year VISA but I have now been in London for 19 years.
What do you enjoy most about working at Holborn Dining Room?
I started working for Holborn Dining Room in 2014 and the team and atmosphere in the kitchen here is wonderful. It's the most friendly kitchen I have ever worked in and I love the togetherness of the team. I can really balance my life as a wife and a mother working here.
Holborn Dining Room was once again in the Estrella National Restaurant Awards Top 100, can you tell us a little more about the night?
It's the second year in the row that we were in the Top 100, so to be recognised like this was amazing. To have such calibre of chefs in one room was also amazing.  I was overjoyed to see Clare Smyth win Chef of the Year and also to see Sally Abé as the Chef to Watch was really empowering. Sally's a great person.
Do you have a particular favourite dish on the current menu?
Ah there is no contest. It was love at first sight when I saw this dish. I first made it 3 three years ago and I still love making it now. It's a pithivier and we call it the Potato, Comte and caramelised onion pie.  It's blown my mind and is a really therapeutic dish to make, as the detailed work in the pastry is very satisfying. It has Dauphinoise potatoes, with caramelised onions and aged Comte cheese.  It's like a very modernised cheese and potato pie and the flavours in it are just fantastic.
Photo by John Carey
Who in the world of food do you most admire? Where do you get your inspiration from?
I admire Asma Khan and see her as a role model for women. When I first went into her kitchen and saw her brigade of female chefs at Darjeeling Express it was amazing.  She's training them. She's developing them and it was the first time I had ever been in a kitchen which was all women.
Chef Calum really inspires me too. It is great having a mentor who really wants you to achieve and wants you to progress.  It inspires me to become a role model for my daughter, I want to be someone she can always look up to.
Have you got any exciting plans for the future that you can tell us about?

I have the kids Masterclasses which we have just launched in June and we run them once a month. I cook with my daughter and it was really engaging for her. When the children come into The Pie Room you never know what to expect. They ask so many questions and love all the food. We can fit six into the room so they get really hands on and individual tuition.
Each kid gets a personalised apron, a chef's hat, and miniature rolling pin so they can really step into their new role as chef. I have two hours with them, and they learn how to make both a savoury and sweet dish from scratch – a classic British sausage roll and an apple pie – that they can take home with them.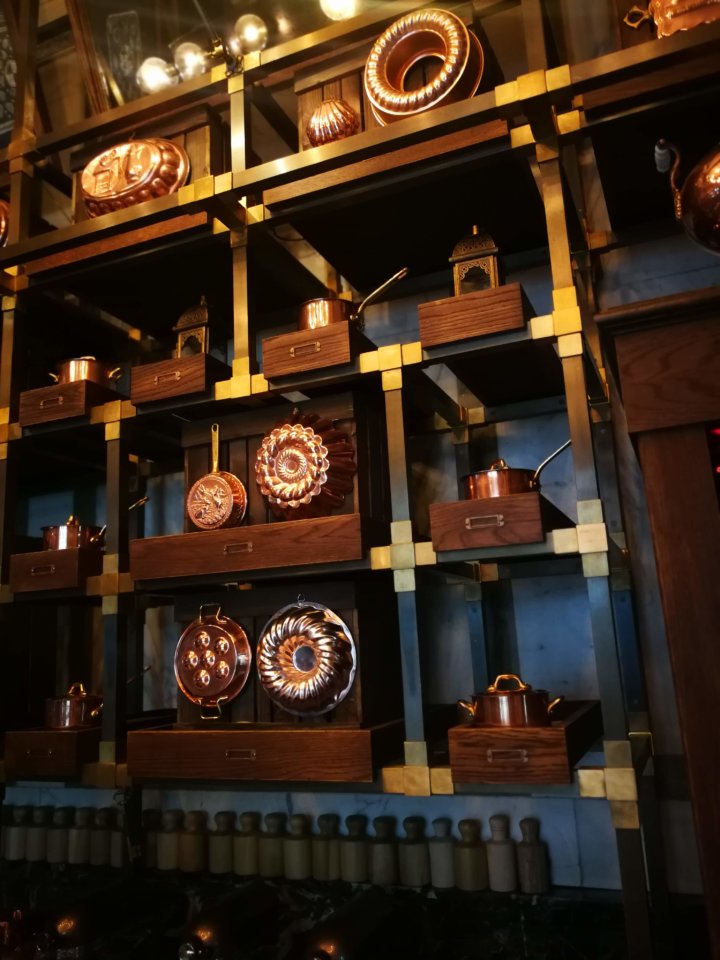 If you were marooned on a desert island, what one ingredient could you not live without and what dish type do you feel you could live on forever?
There is one ingredient I always have in my house, no matter what. If I don't have it, I don't feel good and that's avocado.  There's a lot of avocado in South Africa and I took it for granted. You can have it for breakfast, for lunch, at any time of day.
My desert island dish would be Biryani, it's great comfort food. We have a lot of Indian influences in Durban South Africa where I am from and I love biryani for that.
What are the pressing issues facing women in the food industry today and what should we do about them?
The most pressing is the gender imbalance in professional kitchens. When I first came into the kitchen there was a huge imbalance, I used to be the only woman in the kitchen.  But now I see more women coming into the kitchen and I want to encourage more women. Now in Holborn Dining Room we have a 50: 50 split of women and men in the kitchen.  It's a really well balanced kitchen.

Photo by John Carey
What are some of the advantages of being a woman in the cheffing world?
It does make you work even harder as it gives you the drive to prove to male chefs that you can work just as hard and are even better than them in some instances. They have that respect for you when you work like that. Having a great mentor is a big bonus here, as it becomes really rewarding when you are recognised for that drive.  

What advice would you give to someone who is just starting out or what do you know now that you wish someone had told you when you were starting out?
With any job you have to be passionate. If you are going to work just for the sake of money there isn't much point in my opinion. You have to be willing to learn, have drive as I've said before and work hard.  The hours are long, but you come out with great skills. There have been a lot of challenges but I can see more women looking to come into professional kitchens now. Chef Calum makes everything very easy going and he really wants his team to be empowered. I think we will have more women than men in our kitchen soon.
You can find Nokx Majozi on Instagram @nokxmajozi  & Holborn Dining Room @holborndiningroom and on Twitter as @HolbornDining. 
Visit Holborn Dining Room's website and find out more about their amazing Pie Room here. The next Children's Pie Masterclass with Nokx is on Saturday 21st September 2019. To book contact +44 (0) 20 3747 8633 or email info@holborndiningroom.com. Children must be accompanied by an adult during the masterclass. 
You may also like to read the following interviews with other inspiring female chefs – Luciana Berry – MasterChef The Professionals Quarter Finalist, Private Chef & Le Cordon Bleu Ambassador, Stosie Madie Chef Patron of The Parkers Arms – Julie Walsh – Head Pâtisserie Chef of Le Cordon Bleu London, winner of MasterChef 2019 Irini Tzortzoglou, Olivia Burt, Sous Chef at Claridges & the first female chef to the reach the Roux Scholarship finals in four years, Ruth Hansom new Head Chef at Pomona's in Notting Hill and former winner of Million Pound Menu.  Plus we interviewed all of the women chefs who competed in BBC2's Great British Menu 2019 – see them here at Great Women on Great British Menu. 
View all news