11/08/2019
Female Food Founders – Interview with Catherine Farinha Founder of The Chefs' Forum
In the ninth of our series of Female Food Founders interviews we turn again to  education and training.  We met Catherine Farinha Founder of The Chefs' Forum – an organisation that brings together leading chefs, colleges and food trade suppliers in the UK and beyond.  She also set up The Chefs' Forum Educational Foundation to raise funds for young people in the hospitality industry. Our co-founder, Mecca Ibrahim, chatted with Catherine  about how she got into the hospitality business, the importance of developing young chefs and her food inspirations in the industry.
How did your career in food begin?
I started working on the Bristol Food Guide back in the early nineties which involved selling advertising space to high end restaurants and AA Rosetted chefs. This was also owned by food guides in Manchester, Edinburgh and in Glasgow, so I did some work with those cities too. It was then that I discovered I loved the industry, my background before then was more pub advertising based.
How and when did you start The Chefs' Forum?
This was in 2012 as I was made redundant from one of the food magazines I was working for and I was pregnant with my third child.  So I had to do some quick thinking and come up with a way forward. It was either fight or flight.  I launched it when I was five months pregnant but got so much support and I've never looked back since.
I started as a part time initiative initially with Adrian Kirikmaa from City of Bristol College and Michelin starred chef Josh Eggleton. We did informal events to begin with. They got busier and busier so I took on more  and more and took it on full time.  Then Alexandra Duncan who now heads up operations,  approached me as she had been made redundant, and I needed some help as I originally only had an intern working with me. We've grown since Alex has been on board, from three regions to ten.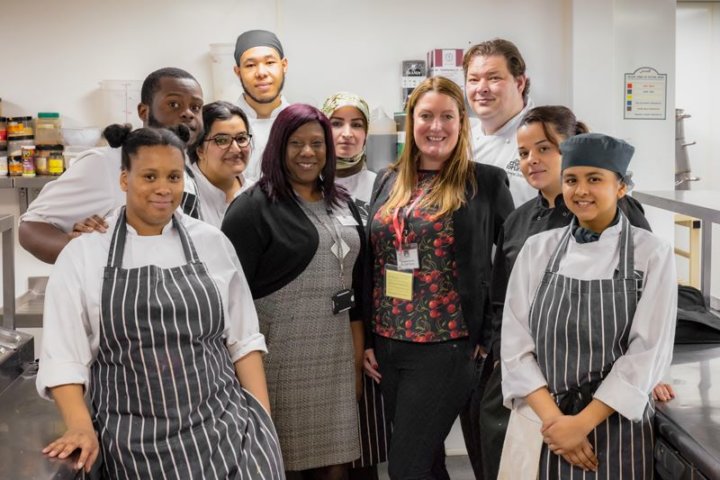 Why did you decide to work with colleges and help  younger, newer chefs? 
The chefs that I originally worked with like Josh Eggleton and Chris Wicks in Bristol had found that they weren't recruiting enough young chefs for their businesses and didn't seem to be communicating in the best way with catering colleges. So for me it was all about oiling those wheels of communication.  With my marketing, advertising and sponsorship background, I saw the commercial opportunities of inviting industry brands to these quarterly meetings with chefs and colleges.  It gained its own momentum from there.
You now working formally with colleges themselves to give their student work experience, how does this work?  
We give the students work experience by preparing food for our quarterly events, but we then invite the chefs that we are working with at those events back into the colleges to teach them.  It becomes part of the colleges formal curriculum and we pay the chefs as well for this as we appreciate they are taking time out of their restaurant – mostly on their days off.  We can then ask them to teach in multiple colleges and we now have five academies nationally.  There is a big emphasis on employer engagement as part of the national curriculum this helps a lot.
Tell us more about the five Academies?
Every teaching Monday or Tuesday of the academic year, we send a chef and industry expert within a two hour radius into a college we work with. We are bringing in Michelin starred chefs, pastry chefs, experts in fish, or a butchers. They talk about best practice as well as teaching them culinary skills.
What are some of the biggest challenges you would say culinary students and apprentices face in the UK?
Because of the age they are when they leave college travel and transport is a big challenge. If you want to work in a Central London restaurant it is hard to live that close as the rents are so high. So they are going to have to commute, many don't have their own transport. This is the case in most big cities. This is why we have launched  the Chefs' Forum Educational Foundation. which is where we hold college lunches with great chefs. Most recently we did one with James Martin, Lisa Goodwin Allen, Andrew Nutter and Simon Wood up at Manchester College. We have similar plans for the other regions and we put on a great lunch and all of the funds raised help young students with transport, accommodation and uniform costs. The lecturers help to let us know which students are most deserving of assistance. We are actively seeking funding for this from charitable trusts too.
How would you say the industry has changed since you began your career in food?
The culture in the kitchens has changed massively, it used to be far more shouty environment. Chefs now seem to be going out of their way to change this and are doing  a lot to combat bullying in kitchens.  Chefs are more conscious of nurturing and mentoring young students as opposed to sifting through apprentices and breaking them until the get a good one. We have seen so many young chefs get put off by aggressive atmospheres, as an organisation we have to raise awareness about that. This industry is a great one and can give young people amazing experiences in cheffing, being a sommelier, front of house work and we want students to gain from this.
Who in the food industry has most inspired you?
Definitely the Roux family and the Roux Scholarship and the support they give to Roux Scholars once they leave.  It can really change a young chefs life. There are so many top chefs as a collective that are prepared to help and guide young people. I find that inspirational too.
What do you think the Government can do to help students and apprentices?
We are seeing a lot of colleges having to cut catering as a subject because it's expensive to run as opposed to tourism or business studies which is cheaper as there is no equipment involved.  We have seen colleges with so much old equipment and ovens. We then have to help out with brands that work with us to give them equipment or d-listed equipment from exhibitions. There definitely needs to be more funding.  We also work with schools to try to get them think about catering or hospitality as a career.
What are some of the advantages of  that being a women in the food industry?  
My team is an all female team, which can work in our favour.  You need to be a special sort of person to work within The Chefs Forum as you are often making quite big asks of brands or chefs. So you need to be resilient and tenacious and have very thick skins. We often told no, or asked to do "impossible" things but our hard work and determination when it pays off is very fulfilling.
Finally, what's the biggest piece of advice you could give to someone starting out, or putting it a different way, what do you know now that you wish someone had told you when you were first starting out?
Aim for the sky as there are no limits. You get out what you put in for most careers. You also  really have to believe in yourself and take opportunities as they arise. If you over-think things too much you can often miss out on an opportunity by being scared it won't work, so jump at a chance and don't be afraid of failures or things going wrong.
You can find out more about The Chefs' Forum on their website and follow them on Twitter @TheChefsForum or Instagram  @the_chefs_forum here. 
Look out for more interviews with female founders of food businesses in the coming weeks.  In the meantime you can read our interview with Anishya Kumar the founder of Zinda Foods & the AirWrap, our interview with Juliet Barrett co-founder of Grenade, our interview with Tanya Robertson-Lambert, founder of The Saucy Affair, our interview with Cecily Mills founder of Coconuts Organic ice cream;our interview with Renee Elliott founder of Planet Organic; our interview with Jane Woodhead co-founder of Speakeasy Ice Cream ; our interview with Kim Havelaar founder of Roqberry Tea and interview with Gemma Colao MD and Co-founder of OTO CBD.
View all news