10/11/2019
Olivia Burt on competing in MasterChef The Professionals – Interview
We had the wonderful opportunity to catch up with Olivia Burt, Sous Chef at Claridge's, who is competing in MasterChef The Professionals on BBC2.  Olivia was also the only female chef to make the finals of the Roux Scholarship, and we've been following her career with interest since interviewing her in the run up to those awards.  Our co-founder, Mecca Ibrahim, recently spoke to Olivia about her experience on MasterChef The Professionals and what it's like cooking on a national TV show.
How did you start working in restaurants and where did you train to be a chef?
I did some culinary courses after I left school at 18 and went to Ballymaloe Cookery School in Cork with Rachel Allen and Davina Allen for three months. I decided I wasn't going to university and wanted to do cookery full time, so I went to Le Cordon Bleu in London where I studied for a few months and then I moved to Paris to finish off the course there.  I created a little CV about what I'd been doing and went to Joël Robuchon which was on the Champs-Élysées and give them my CV. I was offered a position and started the next day and was there was for just under a year. After that I travelled and did some private cheffing work. Then I finally made it back to London about four and a bit years ago and started working at Claridge's. I worked for Simon Rogan at Fera in Claridge's for about three and half years and have been here ever since.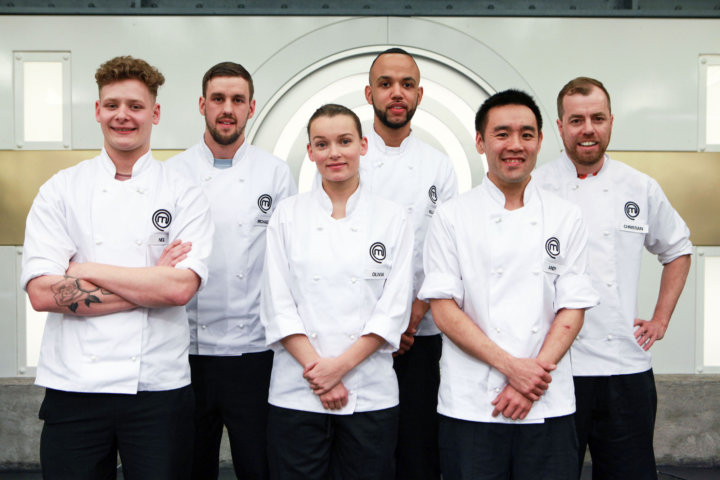 How did you get on to MasterChef The Professionals?
I hadn't really looked at entering the competition before this year.  At the beginning of the year when applications to the competition opened I was in full flow with the Roux Scholarship. Around the time of the Scholarship, one of the producers said you really ought to apply, it's a great opportunity. But my focus was on the finals for Roux Scholarship. Three weeks after the finals I thought, I really wanted to give MasterChef a go. From that moment on was full on.  The producers came to Claridge's to interview me and do some back story filming which you saw in the first show.  That was one week after my application, so it's been all go since then.
How do you prepare for something like MasterChef The Professionals?
It's difficult to say exactly. I sat down for a long time and thought about what I wanted my signature dish to be. What I did the most was go back onto BBC iPlayer and watch back episodes.  I looked at the different challenges and tasks to get some idea of what to expect and the process of the show. The challenges and skills tests are changed every year though, so you never know what you're going to get.  Ultimately though I know I needed to do the food that I liked and understood.
How did you decide on your signature dishes for MasterChef The Professionals?
Coming up with the dishes was really difficult but I wanted to do something I really loved and adored. I wanted to do fish because of the timing constraints. Time is short and I didn't want to risk meat with the timing, resting the meat and using an unfamiliar oven. I couldn't risk anything with the first show. I went with the seasons and cooked what was plentiful when we were filmed. That's why I went with white asparagus, courgettes and some amazing sea herbs. I went with something simple that I knew would be really good.
Cooking for the critics is all about time, as you have an hour and 15 minutes to create eight plates of food so that was the main reason I went with steak tartare. I knew I didn't want to cook any meat or fish in the starter because I wouldn't have time to get the main course done correctly.
What are some of the things you've learnt from being on MasterChef The Professionals? 
The biggest thing I've learnt is calming nerves in the kitchen and trying to keep a level head. It's interesting the things you learn about yourself when you are under pressure, it's almost like learning to cook again for the first time. In the skills test your mind goes completely blank, so you need to slow everything down and go back and simplify everything. It's about knowing that you can do it. No one knows what it's like when you first walk into the studio kitchen. But there's so much to learn from the show and I'm really grateful for the opportunity.
You're on a desert island and you have one item you can't live without what would that be? Plus if there was one dish type you could live on forever what would that be?
On a desert island the thing I couldn't live without would probably be peanut butter M&Ms. Which just to clarify you can't even get in the UK unless you go into obscure stores.  I've got a really sweet tooth. They're my go to when I'm feeling really stressed. Type of dish would probably be a  dessert because of my sweet tooth or it would be cheese and biscuits. Food is something I deal with everything single day, but sometimes when you want to relax you just want something basic.
Have you found any particular advantages of being a woman in a professional kitchen?
Women are definitely in the minority in professional kitchens. Some people see that as an advantage, some as a disadvantage.  When you get up to the top you need to be a lot more focused and driven. You need to be a lot more powerful. If you're leading a team of 40 and there are only two women in it, that is a massive job.  You need to be a lot stronger in professional kitchens as a woman just because of the way teams are built. Althought in MasterChef The Professionals it didn't make a difference, as if you can cook, you can cook and we've seen some strong women chefs already like Yasmin Godfrey in the show.
Do you have any exciting plans for the future that you can tell us about?
There's so much stuff in the pipeline. I'm working on some pop ups at the moment and some other exciting stuff for the New Year. I'm going to get through to to the end of the year and I'm going to continue watching the show. I'm really looking forward to seeing people keep following my journey.
What do you know now that you wish someone had told you when you were starting out?
From the minute I walked in Simon Rogan's Fera at Claridge's I knew I wanted to be a chef. If someone had sat me down when I started cooking and training and said in six years you'll be here, I would never have imagined that would happen.  So if someone could have told me something to spur me on at the start it would have been 'you will get there in the end'. Sometimes when you're working all those long hours you think 'Is it really worth it?' but actually in the end, it is definitely worth it. I love practical work, and everything about kitchen and would never want to sit at a desk. My days go so fast and that's something really special for me.
View all news