05/02/2020
Women in the Food Industry's first Northern event hailed as a huge success!
Working in partnership with Marketing Lancashire, and generously hosted by Lancaster University and Lancaster University's Conference & Events our very first Northern event for Women in the Food Industry was a fantastic success. Here's a recap of what took place.
The day started at noon with a Pop Up Food Fair celebrating the best of Lancashire's artisan food and drink.  The room was buzzing with visitors who were chatting to the producers whilst sampling and buying all the delicious produce.
We'd like to give a big thanks to the following producers for showing what Lancashire has to offer:
Filbert's Bakery
Old School Brewery
The Bee Centre
Wignalls YALLO
The Now't Poncy Food Company
Ginger Bakers
Goosnargh Gin Ltd
Wild Fox Distillery
Blackpool Rock Gin
Our Paula's
Styles of Siam
Choc Amor
Bowland Brewery
Head Chef Stuart from Lancaster University's Conference Plus, devised an exceptional menu of bowl food for lunch at 1pm
Using the local produce we were treated to the following main courses:
Leek and potato casserole with Lancashire cheese scones
Roast butternut squash curried casserole with red lentils
Vegan parsnip gnocchi with chestnut mushrooms and Garstang blue cheese
Slow cooked lamb shoulder with local root vegetables
All served with homemade breads
A delicious vegan sticky toffee pear cake with butterscotch sauce followed.  Plus the refreshments of tea, coffee were also thoughtfully supplemented by a selection of soft drinks from the North of England including Sarsaparilla Cordial.

At 2pm our co-founder, Janie Ash welcomed everyone and introduced and thanked, Jo Hardman, Lancaster University's Head of Commercial Services, for hosting the event.
Jo said a few words about the University's commitment to high standards of food excellence and their growing reputation for conferencing and events.
Janie, introduced Marketing Lancashire's CEO, Rachel McQueen: "One of Lancashire's most successful sectors is food and drink, which in terms of the visitor economy spend alone, contributes over £1bn to the local economy. Through our Taste Lancashire campaigns and partners, we aim to highlight the excellence and diversity of the county's hospitality, food producers and culinary talent. This event allows us to focus specifically on those women who have made a huge impact on the sector and are inspiring the next wave of Lancashire food entrepreneurs."
Lancashire Female Food Entrepreneurs.
"Exactly one year ago today Women in the Food Industry was conceived and so it's fitting that today we are holding our first Northern event in Lancaster" said Janie and she paid tribute to her co-founder, Mex and to the role her late husband Larry played in helping set up and establish Women in the Food Industry.
Masterclasses "How to become a Successful Food Entrepreneur."
In the first of two inspiring masterclasses Stosie Madi – Chef Patron of award winning rural inn, Parkers Arms shared her story and secrets for success. It was pertinent that this was hot on the heels of her position of being announced one of the Top 50 Gastropubs in the country and rising to number 7 in the listing.
She said "Keep true to yourself and your terroir – the conditions in which a food is grown or produced and that give the food its unique characteristics".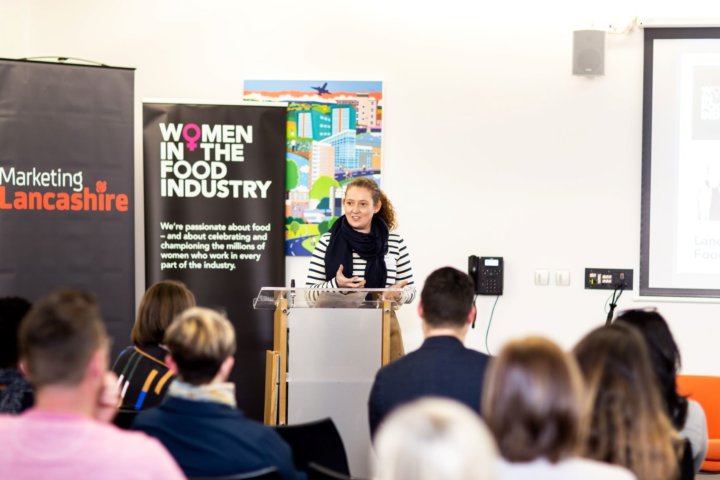 Rachel Trenchard – Co-founder of international award winning artisan gin, Goosnargh Gin from the Forest of Bowland told her tale and journey to becoming recognised for excellence. Be passionate, creative and authentic and small is beautiful.
The afternoon concluded with  a panel of  "Inspiring Women in Food"
Hosted by Janie, the panel discussed:
Who or what inspired you?
Your biggest challenge and your sparkling moment?
How has being a woman shaped your approach to business?
What advice would you give your younger self?
The youngest ever finalist on The Apprentice Camilla Ainsworth, shared her ethos and how resilience is invaluable, in her journey to create and grow, Mylkplus, a super sassy 'grab and go' nut m+lk in a variety of different nut choices and flavours.
Overcoming mental health issues to create great products and a thriving business with her husband, Karen Walker, owner of The Now't Poncy Food Company shared her ups and downs to success.
Ros Wilkinson, Head of Hospitality at Lancaster University, shared her struggle to build a career as a women in hospitality and balance that with having a family and her passion for creativity.
Jocelyn Neve shared her inspirational story about moving from one venue to ten as she built The Seafood Pub Company, without losing the integrity of excellence she explained the ethos of family was at the 'heart of our business'.
Lancashire Life Magazine's Emma Mayoh talked about how so many of the woman she's interviewed have made a difference to her life, such as Prue Leith and Lisa Allen.
The remarkable Lisa Smith talked about confidence. When she started Ginger Bakers she wished she'd been more self assured and known that she was more than capable of being a successful entrepreneur.
We would like to give a huge thanks to all involved with planning day, particularly to Marketing Lancashire and Lancaster University for hosting the event and we hope you enjoy the above video from the day, which gives a short recap of the inspiring masterclasses, panel and busy food fair.
View all news