27/01/2020
Spotlight on Female Head Chefs in Top 50 Gastropubs of 2020
Hundreds of votes from gastropub chefs, food writers, pub-guide editors, top pub industry suppliers and critics were counted to reveal the country's best gastropubs across the country. This year's Estrella Damm List of Top 50 Gastropubs shows a number of inspiring women running award-winning pub kitchens including the pub which reached the top spot – The Harwood Arms.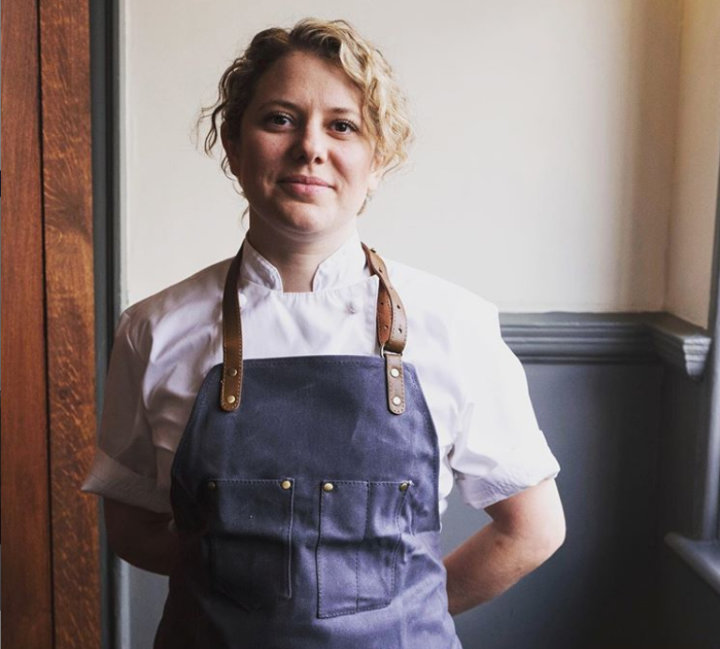 Sally Abé was announced Gastropub Chef of The Year for 2020 for her work at London's The Harwood Arms.  The pub is just one of just seven London pubs to make it into the top 50 and is London's only Michelin-starred gastropub too.  Sally thanked her amazing team at the awards ceremony which took place at Port Lympne Hotel & Reserve, Hythe, Kent on 27th January 2020.
She also said the future is bright for the gastropub industry.
"The biggest trend in food right now is sustainability, which is massive, and everyone is trying to get on board with that," Sally said "We use a lot of deer here, which is one of the most sustainable meats, and we use every part of the deer.
"There's a big trend towards vegetarian and vegan food. We're a game-led pub so we won't ever become a vegetarian pub but we do offer a vegetarian and vegan menu, and we're quite happy to have those customers with us."
We were delighted to see the stunning rise in the list of  The Parker's Arms  in the Ribble Valley Lancashire run by chef patron Stosie Madi.  The pub was 2017's Highest Climber, shooting up a whopping 35 places from 48th to 13th and  is now 7th in 2020's list.
Stosie and her business partner Kathy Smith took on The Parkers Arms in 2007. Stosie has helped establish The Parkers Arms as a culinary North West gastronomic hotspot from derelict abandoned pub to a nationally acclaimed award winning food centric establishment.
Grace Dent called it "God's own gastropub" in August 2018.
Like Sally, Stosie values the importance of a sustainable menu. "The Parkers Arms is a country pub that welcomes everyone and their dog," Stosie said. "It's all about food and local sourcing and what grows around here and on our doorstep".
"Our menu is also ruled by what's local. We made a decision a long time ago that, if it doesn't grow in the area or within a 30-mile radius, apart from something like chocolate, vanilla or spices, we don't want it on the menu."
Straight in at number 26 is The Black Bull with Head Chef Nina Matsunaga. Nina was born in  Dusseldorf, Germany, to Japanese parents, and these remarkably different food cultures have played a huge role in influencing  the food she creates in the kitchen.
She studied Culinary Arts Management in London aged 18 and moved back to Germany when she was 21 and helped to run her friend's bakery. Nina made a trip back to the UK, to Manchester, and she discovered the growing street food scene, which fascinated her and where incidentally she met her husband to be James.
After running street food stalls and a catering business they moved to Sedbergh in 2014 and opened their first pub, The Three Hares, which won a host of accolades and appeared in the Good Food Guide. Although they still own and run this business, Nina is now a firm fixture at the Black Bull, crafting seasonal menus making the most of locally sourced ingredients.
The Black Bull's food focusses on slow-grown meats sourced from traditional breeds from Cumbria,  such as Herefords and English Whites, local sheep breeds like Rough Fells and Herdwick's, pigs like Yorkshire Middle Whites, sustainably sourced fish from the North Sea and local freshwater fish; plus Nina is able to benefit from an abundant seasonal woodland and hedgerow larder for foraging for great seasonal dishes.
Those who watched Great British Menu in 2019 will be familiar with another female head chef in list.  Emily Scott, Chef Owner of The St Tudy Inn represented the South West on the BBC2 show and her gastropub was last year's highest climber in the Top 50 Gastropub list.
Emily trained at Tante Marie Cookery School in Woking. She was also named one of the most influential women in hospitality by CODE – a leading industry publication.
She said: "I was immensely proud to find myself on this list alongside so many inspirational women. The industry has changed a lot for the better since I trained, and the presence of more women as chefs, sommeliers and business owners has played a massive part in that."
Emily's ever-evolving menu at St Tudy Inn, combines her passion for beautiful food with the best Cornish produce.
Charlotte Vincent (formerly Head Pastry Chef at the two Michelin starred Gidleigh Park for over a decade) became the new Head Chef of The Five Bells Inn in summer  2019.  Under her guidance, she helped the pub to make a new entry into the Top 50 Gastropubs list.
Like all of the female Head Chefs in the listing, gender has not got in the way of success and Charlotte was one of the most outspoken chefs when it was suggested by Marco Pierre White that women weren't strong enough to work in professional kitchens.  In order to get more women into kitchens, Charlotte said there needed to be more role models in the media. She said "This is one of the few industries where we can actually be equal to men (given half a chance) and we can also handle tons of pressure. The point is not to let the ego get in the way of asking for help when needed, which we are good at."
The success of all of the pubs in the Top 50 Gastropubs is not just down to the Head Chefs, as Sally quite rightly noted it's a team effort.   The Fordwich Arms  was number 17 and pastry chef Natasha Norton-Smith opened The Fordwich Arms in Canterbury with her Head Chef husband Daniel, two years ago. The pub was awarded a Michelin star after 10 months.
Finally it was great to see the awards recognise a front of house team in their listing. The Unruly Pig was awarded Front of House Team of the Year. Restaurant Manager Amy Challis was praised for transforming the service in the pub.
The listing said  "The team follow four key rules, mutual respect, team work makes the dream work, to always be straight forward with each other and to keep moving forward. You can feel the bond and the respect between the team which creates an overall warm and friendly aura of the pub."
Congratulations to all. The full Top 50 Gastropubs 2020 list can be found here.
View all news