Lancashire Female Food Entrepreneurs
This event has now passed.
We are delighted to announce that Women in the Food Industry's first Northern event will be hosted by Lancaster University. Lancaster excels at understanding and teaching entrepreneurship and is currently ranked 4th out of 50 MBA programmes across the world for entrepreneurship.
Janie Ash, co-founder of Women in the Food Industry, is proud to be one of a select group of Entrepreneurs in Residence at Lancaster University and has been working with our friends at Marketing Lancashire to showcase the diversity and excellence of Lancashire's food and drink talent.
We invite you to join us on 30th January 2020 at Lancaster University for a Lancashire pop up food market, a couple of inspiring masterclasses and an insightful and thought provoking panel discussion.
12-3pm | Lancashire Producers Food Fair at Marketplace 2
1-1.45 | Lunch at Private Dining Room 1
Private Dining Room 2
2- 2.30 | Masterclass 1
2.30 – 3pm | Masterclass 2
3.15 – 4.30 | Panel Discussion and Q&A
Rachel & Stosie in their Masterclasses will talk about their journey to success in "How to become a Successful Food Entrepreneur."
Rachel Trenchard – Co-founder of international award winning artisan gin, Goosnargh Gin from the Forest of Bowland
@goosnarghgin
Stosie Madi – Chef Patron of award winning rural inn, Parker's Arms
@parkersarms | @theparkersarms
"Inspiring Women in Food" is the subject for our panel discussion.
Panellists Include:
Camilla Ainsworth – Founder of M+LKPLUS and youngest ever finalist on BBC's The Apprentice
@CamillaAinswor1 | @mylkpluss | @camillaainsworth
Joycelyn Neve – Founder and Managing Director of the multi-award winning group of gastro pubs, Seafood Pub Company
@seafoodpubco | @seafoodpubcompany
Karen Walker – Co-founder of the award-winning sauce brand, Nowt Poncy
@nowtponcy | @nowtponcy
Lisa Smith – Founder of  Ginger Bakers, award winning cakes and bakes
@GingerBakers | @ginger_bakers
Ros Wilkinson – Head of Hospitality at Lancaster University
@Ros_Wilkinson
Emma Mayoh –  Food & Drink Editor of Lancashire Life and Journalist
@emmamayoh | @lancashirelife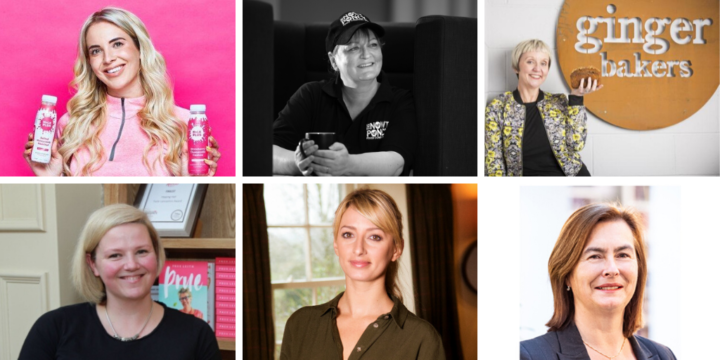 This event is brought to you in partnership with Women in the Food Industry and Marketing Lancashire. This event is hosted by Lancaster University
Keep up to date with this event by following Women In the Food Industry and Marketing Lancashire
View all events