18/12/2019
What Happened at our The Politics of Food Debate at City Hall
Just a few days after the General Election, we held an event at City Hall, one of London's most iconic & political buildings, on the politics of food. A diverse panel of women  covered a big range of topics including food poverty, slave-free food, food waste, gender politics in professional kitchens, Brexit, sustainability and more. Here's a recap of some of the areas discussed.
Clara Widdison – Kitchen Social Programme Manager at Mayor's Fund for London who is based at City Hall opened the evening, explaining the work of the programme. It gives children and young people a safe place to go during the school holidays where they can socialise, make new friends and get a healthy free meal. She is keen to find more people to volunteer their time or influence to help the growth of the initiative.
Our co-founder Mex Ibrahim, chaired the rest of the evening and asked the panel why they felt people in general were becoming more interested about where their food came from. The influence of social media was cited as the panel noted that food brands were now becoming much more accountable & visible as to where their food was sourced.  Nicola Matthews  UK & Ireland Marketing Manager from Tony's Chocolonely explained how Tony's was set up initially by a group of journalists to hold the chocolate industry to account and show that slave-free chocolate is a viable option.  Tony's is now one of the leading chocolate brands in the Netherlands and our audience learnt more about their fascinating story and how their founder gained awareness and impact for the brand by initially trying to get arrested for inequality in the chocolate industry.
We moved closer to home to discuss food poverty and food insecurity in the UK. Ann Storr– Food Waste Fighter shared her background and how many times had resorted to "stone soup" – making something out of almost nothing – and how that experience led to her starting Storr Cupboard to share tips on food waste, plus her work with the Alexandra Rose Charity (helping to give fresh food to families in need)  and Small Change Big Difference who are working with London Boroughs to educate everyone on small steps we can take to effect the environment by changing how we eat and dispose of food.
Laura Winningham– CEO of City Harvest London, London's first large scale, food redistribution effort to connect surplus food with those facing hunger, surprised many of us with the simple statistics around the distribution of food in the UK.  The panel were discussing food banks and the recent Channel 4 Dispatches episode highlighting the plight of many young families in the UK who regularly face hunger. Each month in London, 9.2 million meals are missed by people due to food poverty and yet 13.3 million meals are wasted by businesses. Her organisation are collecting this nutritious surplus food from all segments of the food industry including restaurants, grocers, manufacturers, wholesalers, hotels and caterers and distributing to people in need.
Victoria Stewart freelance journalist, founder of Hospitality Speaks & Insights Manager at Belazu spoke about inequality within professional kitchens.  Hospitality Speaks, the initiative she recently  founded is highlighting stories of people who are being unfairly treated in kitchens, but also highlights good practice and restaurants and kitchens management and leadership practices which show the industry is changing.
Dr Anna Sulan Masing writer, academic & trends forecaster, and co-founder of AMP gave a very insightful summary of how the hierarchy of  kitchen "brigade" system came about, and the importance of making sure this still relates to how people work and expect to be treated in the 21st century. She also discussed the language we use  around excellence and power within professional kitchens and acknowledged the role of social media of us seeing more of chefs in their workplace and not just revered from afar as celebrities.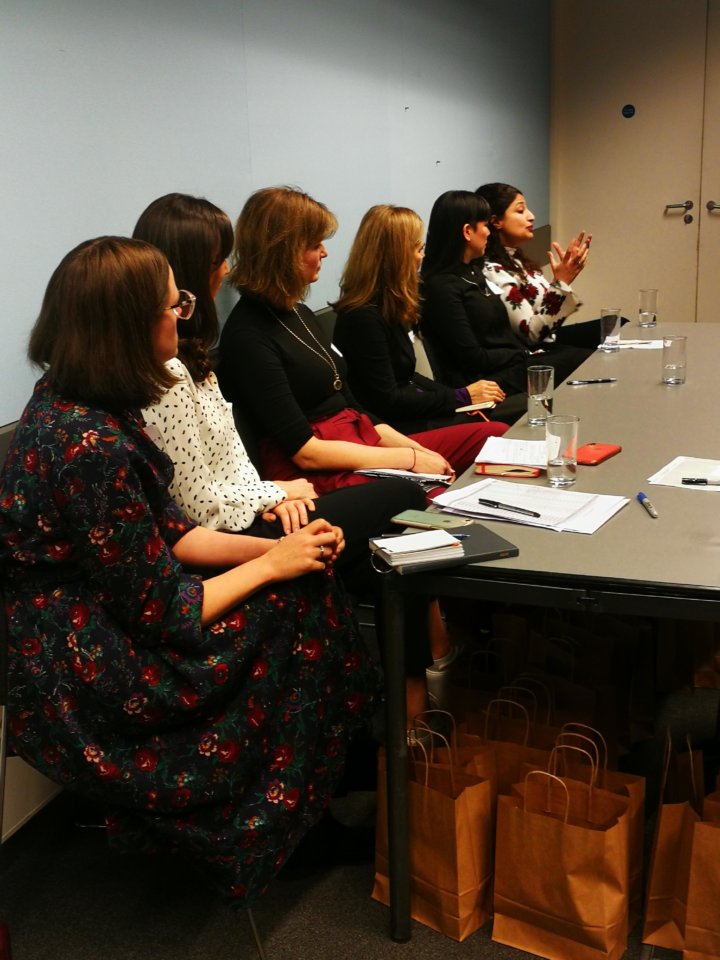 Angela Malik – advisor and board member on the influential Mayor of London's Food Board gave her views on the whether and how the government have a role in what we eat. With rises in childhood obesity and people from BAME communities have an increased risk of developing type 2 diabetes at a young age the panel were asked whether  sugar taxes  or taxing unhealthy food were a good thing. Angela spoke passionately about education having the biggest influence in what we eat.  She also spoke about technology in the food industry and how various apps and even implanted mico-chips were being developed to "beep" at us when we might turn to un-healthy food. Although the developments in the area sound like something from Black Mirror, they are not as futuristic as they first appear.
The debate also turned to  the effects of Brexit on each of the panellists areas of food and it was interesting to hear both the positive and negative outcomes the panellists shared. Staffing, the cost & distribution of fresh food and fair trade were all seen as challenges, but on a positive note, the panel acknowledged that there were now opportunities for us to focus on food produced in the UK and for the country (or at least those who could afford it) to eat with the seasons and get more creative with seeking out products such as truffles and lentils which can be grown in the UK.
When we opened the discussion up to the audience, there were some thought provoking questions about whether food & food waste was ever going to have its "Blue Planet" moment or whether there would be an "The Attenborough Effect" within the food industry.  We also discussed issues around food trends or "food fads" as many panellists preferred to refer to them.
The discussion continued after the debate and the panel and audience stayed to enjoy wine nibbles, networking and also took home goodie bags with samples kindly donated by Tony's Chocolonely & Belazu.
We also had time to take a photo, wrapped up warmly and huddled in the rain with the Belazu team outside City Hall with the backdrop of Tower Bridge. Thanks to Caroline McCarthy for the photo.
Finally, we would like to give a HUGE thanks to everyone who braved the weather and contributed to the insightful  conversations and very supportive atmosphere. Opening up about politics is not always the easiest thing to do and we hope that everyone went away feeling more knowledgeable about some of the political issues surrounding food.
Watch this space for more events in 2020 by following all of our social media channels – we are on Twitter, Instagram, Facebook and LinkedIn and you can also sign up for our email newsletter. Plus Women in the Food Industry members receive discounted tickets to all of our events.
View all news