18/03/2020
Discover what happened at our Urban Female Food Founders & Food Makers Day
In our week of celebrations around International Women's Day we held two events on International Women's Day itself to share the stories of a variety of Urban Female Food Founders and run a mini food fair from female led food producers. Here's a recap of the day which we ran with our friends Todelli a curated online farm-to-table marketplace for chefs & restaurateurs.
We kick-started the day with a motivating panel discussion from four women who couldn't have started their food journeys in more different ways, yet it was enlightening to see the similar challenges they faced.
Thuy Diem Pham is a British-Vietnamese chef, author and owner of The Little Viet Kitchen restaurant in Islington, North London. She gave a hugely lively and motivational talk on the challenges she faced moving to the UK as a seven year old and her journey to opening up her restaurant with her husband.  Her first experiences in the restaurant industry, after having a safe job in the city, was full of ups and downs. But amongst her lessons was to expect the downs as well as the ups, to think big and to remain focussed on your mission.
Thuy was lucky to have the support of her husband, her mother and sister and said  "We fought as a team and we put out fires as they started and slowly got better at it over the years, until we (perhaps foolishly) considered ourselves expert 'firefighters' and able to handle anything."
Rukia Begum, founder of award-winning samosa brand Mixed Thal, was born in Bangladesh.  She moved to London, UK with her family at an early age. She too had a dream to bring multiple cuisines under one roof, but admitted the being cautious made her slow on her journey. She kept her accountancy job and Mixed Thal was a side hustle for quite some time. Her tips were to network within groups in the industry (including our own Women In the Food Industry) and to not be afraid to ask for help. It was through networking that she discovered the Quality Food Awards and decided to submit her samosas. No one was more surprised than she was to hear that they were shortlisted in two categories and she won Best Party Food in November 2019.
Rosie Joly, co-Founder of OTO CBD.  initially joined PROPERCORN, as an intern and grew with the company. In the course of 4 years she helped to grow the business from  start-up to SME. Rosie remembers working when they were a start up with all hands on deck, packing boxes when it was still more of a kitchen business. She recalls a colleague giving her the confidence to say that she wanted to join the company permanently and she talked about the imposter syndrome or lack of confidence that stops a lot of women asking for promotions or pay rises.
Rosie said "You've probably heard the following statistic about job descriptions and the difference between gender when applying. Men apply for a job when they meet only 60% of the skills and requirements listed, whereas women apply only if they meet 100% of them."
Finally in the panel Alissa Timoshkina spoke of how she set up her business following her joint passions for food and cinema. Alissa came to the UK in 1999 from Russia to study film history. After gaining her PhD, she lectured and published papers on Russian and European cinemas, and also worked as curator and coordinator of London film festivals.
However her passion for hosting dinner parties gradually turned into an obsession and Alissa left her job to launch a new project: a cinema-supper club called KinoVino.  Alissa spoke of common challenges of balancing home and work and also particularly doing this as a new mother. She has also just had her first cookbook published.  Salt and Time explores the culinary heritage that Alissa grew up with and delves into the intricate history of Russian, Siberian and Soviet cooking.
After a Q&A with the panellists, our audience and members of the public visited the female led food companies at our mini food fair, to sample their food and drink.  Our audience also received sustainable samples of Mediterranean and Middle Eastern pastes and tapanades from Belazu Ingredients Company.
We we delighted to visit stalls of sustainable and unique food makers that make a difference to our food supply chain every day.
ChicP was created to counter act against this waste taking the opportunity to have a positive impact on the community, our natural resources shaping our health habits for the better. Founded by Hannah McCollum, ChicP was set up to bring healthy, colourful dips made from surplus vegetables to the food market.
Tickles' Pickles are made from fine, fresh vegetables, a little sea salt and nothing else. Their  magic ingredient is lactic acid bacteria. These friendly bacteria are naturally present on vegetables, and the company encourage their growth by creating an acidic, oxygen-free environment.  Tickles' Pickles founder Chetanya Alexander comes from a family who are ahead of their time when it comes to food. Her parents produced seitan, the meat alternative which many vegans enjoy, back in the 1970s in Bristol.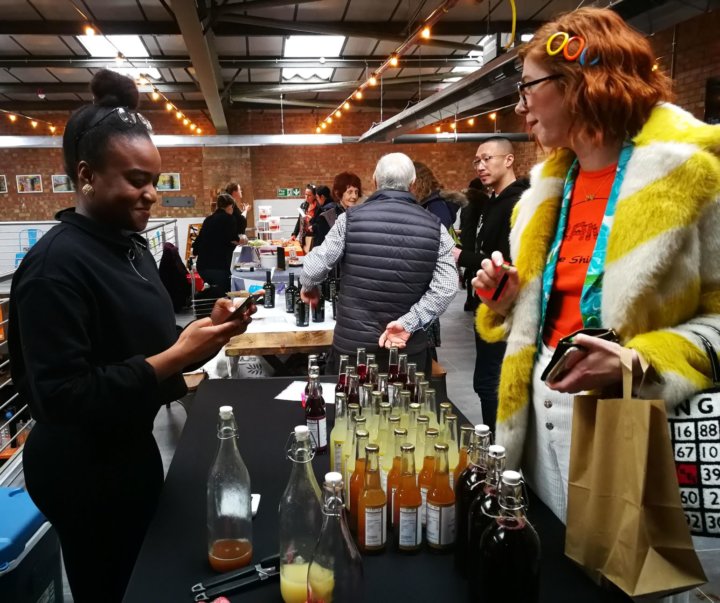 Inspired mainly by Caribbean flavours, Carisips fine tasting beverages remind many of their culture and childhoods and this is why Aisha Jade set up the company.
With a tangy and sharp taste, her beverages embody the authentic nature of tamarind and is the ultimate combination of sweet and sour. The citrus notes entice you with a fruity twist,  complimented by mild hints of spices.
The Premium Greek Olive Oil Company also were on hand to sample. Their oil evo3 is different from the rest of the brands in the market, not only because of their high quality and innovative product, but also because of the environmental and social cause behind it. The heart of evo3 is its concept. For every product sold, a tree will be planted in a deforested area in Africa – specifically in Ethiopia and Madagascar.
The Korean Pantry is the brainchild of pastry chef turned Kimchi maker, Cindy Robert.
After extensively travelling in South Korea and learning the art of kimchi from Kimchi master chefs and Korean mums, Cindy came back to London with the wish to share all that she learned.
She started to manage a Korean BBQ restaurant in North London where the head chef and herself taught many how to make kimchi and other Korean dishes like kimbap, tofu, jjigae and so on.
We would like to give a huge thanks to Fourpure Brewing Company for being our hosts for these events on International Women's Day and to  Hara Mihailidou co-Founder of Todelli for helping us to set up and run them.  
Watch this space for recaps of our International Women's Day events and look out for more events in 2020 by following all of our social media channels. We are on Twitter, Instagram, Facebook and LinkedIn and you can also sign up for our email newsletter. Plus Women in the Food Industry members receive discounted tickets to all of our events.
View all news