08/01/2020
Interview with Stephanie Slater Founder of School Food Matters
School Food Matters' mission is to ensure that every child enjoys fresh sustainable food at school and understands where their food comes from.  Their founder and CEO Stephanie  Slater works with parents, children and schools to help to improve school meals and support food education through cooking, growing and visits to farms.  Our co-founder Mecca Ibrahim caught up with Stephanie to discover how she set up the initiative and explore what motivates and inspires her work and how we can help the organisation with their efforts.
What was your impetus for founding School Food Matters?
Basically, really bad school food in my children's primary school! Our children were born in Sydney and when we came back to London in 2005 we took them to the local primary school and the first thing I heard from the school manager was "Sorry about the smell but that's lunch." There was a level of acceptance that school food was bad and we couldn't do anything about it. Only 20% of the children were eating school meals and most of that was going in the bin.  I just thought I was going to fix up my kids' school, but it soon became clear that there was an opportunity to do something bigger.
How did you manage to get such an amazing panel of speakers for the launch of School Food Matters?
Because of the work we'd done at our local primary school to fix school dinners, I was introduced to the then parliamentary hopeful, Zac Goldsmith. This was long before he became an MP. He was then director of The Ecologist and he had awesome environment credentials. He'd heard the story of what we'd done at the primary school and suggested I should be ambitious and do something bigger. I hadn't any idea about the complexities of public sector procurement as this wasn't my background. I came from 20 years of film production so I thought everything would get sorted in 6 weeks like film project …. not so!
The good thing about getting Zac Goldsmith involved early on the piece is that he's awesomely connected. He suggested we get Jonathan Dimblebly to chair the launch who was then Director of the Soil Association, and obviously knows how to run a panel in Any Questions style! Prue Leith was then the Chair of the School Food Trust and agreed to come along and I stalked a TV gardener called Chris Collins and persuaded him to take part.  Jeanette Orrey, known as "The Dinner Lady" who inspired Jamie Oliver's school dinners campaign was a great addition and I started relentlessly lobbying for Jamie himself to make an appearance.  He couldn't make it but he sent the most fantastic film in support of the campaign.
What happened after the launch event?
We had about 300 parents at the event at Richmond Theatre and we had some pretty highfalutin people on the stage. I knew there was an opportunity here as it's really hard to argue against the idea of getting children to eat well.  We started a petition and got 790 parents to sign which was enough to get the local authority councillors to think that they need to do something.
How many London boroughs are you working / campaigning in now ?
We had to wait four years for a contract break to improve school meals in Richmond which I knew could be better. I wanted to work with parents, headteachers and other campaign partners such as The Soil Association and Sustain to get the best possible school food that was good for children and good for the planet. We now work with all the London Boroughs and feed into conversations at the GLA.  School Food Matters has just been co-opted onto the London Food Board so we're having an influence on policy.  And the work we did back in 2013 on the School Food Plan with Henry Dimbleby and John Vincent means the impact of our campaign has spread beyond London.
How did your links with farming begin?
Again, I went into this completely naively! You'll see our strapline is "farm gate to school plate". I thought we would get farmers to supply local schools with produce, which sounds like a great a good idea, but is more complex that you might think, especially when you think about the complexity of local authority contracts.  So I figured if we can't get farmers to supply food to schools, let's get schools out to meet farmers. By getting that link in place, children realise that food starts in the soil and not in the supermarket.
There's no better way of doing that than getting them onto a farm. And there's something incredibly joyful about seeing young people from a very urban environment arrive on a farm and literally rip fresh veg out of the ground to eat. It's very exciting.
As well as getting kids to understand where their food comes from you are also working with chefs on cooking with kids, what more can be done regarding teaching children how to cook?
I firmly believe we have to have policy. Cooking went back onto the Curriculum in 2013 with the School Food Plan and the sad thing we know that despite Government decree only 26% of schools are actually doing this. In secondary schools they teach this thing called "Food Technology" (cooking) which is shoe-horned into the Design Technology (DT) curriculum. Many secondary schools have a fully equipped food room but no food teacher. Then conversely, in primary schools, you might have a really enthusiastic teacher who wants to teach children how to cook but no facilities.
But we can't wait for government. Food education and school food is not politics- proof, so it tends to ebb and flow with each change in government. Yes, policy is important but we have to get schools motivated. I am a firm believer that food education sitting in the DT department is the wrong place for it to be. We need to really prioritise food now to tackle the public health challenge of childhood obesity and we also need to consider the impact of food on climate. We need a standalone subject called Food Education, just like you would have Religious Education or Physical Education.  Food Education must be prioritised and valued and there's enough rich content to engage children from 4-18!
There are definitely practical cooking skills that need to be taught as well as lessons in how to be discerning consumers. Young people need to know how to read labels and understand when they are being marketed to so they can learn how to feed themselves well and choose food that's going to keep them happy and healthy.
How can parents and schools get involved in your work?
We have just done a strategy review at School Food Matters and one of the messages that came out was that more people need to know about us. We don't have a comms team here, but people who know about us love what we do and see the value of our work. Proactively signing up for our newsletter, means you will at least hear about our projects and campaigns. If you are in a school that has the impetus to do something, pick up the phone and get in touch with us. We are constantly finding ourselves with opportunities and looking for schools to work with.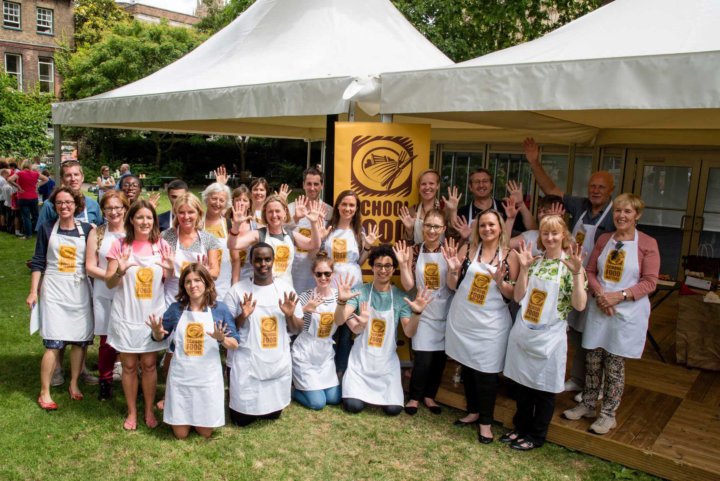 What are some of the projects you are most proud of, or which have made the biggest impact?
As far as impact is concerned you can't go past our original Richmond school meals campaign as that rolled over to Kingston and we've now got 58 primary schools all having fabulous school food. The success of that campaign meant that we started attracting funding so we could do more food education and more campaigning.
If there is one event that still makes me smile, it was our 10th birthday picnic. It was at Westminster Abbey's College Garden and happened against all odds as we were bringing 500 children into central London around the time of the 2017 terrorist attacks. Quite rightly schools were anxious so we had to make sure that we held the event in a very secure space. We needed a place where the children would be safe and contained and the walled College Garden was perfect. It's a beautiful garden with a great history of food as the monks used to grow herbs for medicinal purposes. The picnic was great fun and every single person in the office played a part, plus every partner that had worked with us over the 10 years came along to help.
Also I'd love to add our longstanding project with Borough Market – Young Marketeers. We are into our 9th year and this has spawned so many other projects.
Who are some of the people you find most inspiring in business and in the food world?
The two that stick out for me are great as they have come together since I first met them! Guy Watson from Riverford was running a small box scheme when I met him at the Real Food Festival many years ago. He was absolutely passionate about sustainable food.  Separately I met Geetie Singh who ran the Duke of Cambridge in Islington. She and I used to sit on the Soil Association's Standards Committee for Food for Life and we got into a right old rant about food education. Now they are together and they have fabulous newsletter called Wicked Leeks which either makes me smile or sit up and concentrate.
And food teachers are bloody amazing! How they do what they do with the level of funding and conflicting priorities is amazing. After 12 years of working with schools I am blown away by what teachers and head teachers do every day.
You're on a desert island and you have one ingredient you can't live without – what would that be? Plus if there was one dish type you could live on forever what would that be?
The first thing I can think of would be garlic. Life without garlic is bland. The other thing would be fresh leaves as I know how to grow my own vegetables. For a bit of bulk, I might have to have some sort of pasta. Spaghetti with garlic and olive oil.
Have you found any particular advantages from being a woman in the food industry?
Within the world of charities and NGOs I find I am actually surrounded by fabulously capable, powerful women. I can't see any obvious advantages but, without slipping into gender stereotypes, we do seem to be able to multi-task and manage an enormous workload. But I won't get into that!
What's the biggest thing that you know now, that you wish you could have told your younger self?
I would say, without a doubt, the restorative effects of going on a long walk. I wish I had known that little secret when I was a teenager – about the power of fresh air and a good walk for health and wellbeing.
You can follow School Food Matters on Twitter at @sfmTweet and on Instagram at @schoolfoodmatters
You can also enjoy  our previous interviews & podcasts including our interview & podcast with Gemma Colao Managing Director & Co-Founder of OTO CBD,  interview and podcast with Lesley Stonier CMO of Forward Fooding, our interview with food mentor Karen Green, our podcast with Katie Chesney Head of Marketing of the STK Steakhouse group of restaurants in  EMEA,  interview and podcast with Renée Elliott founder of Planet Organic  and our interview with Nicola Matthews UK Marketing Manager of Tony's Chocolonely  here.
View all news