03/11/2019
Interview & Podcast with Lesley Stonier CMO of Forward Fooding
The future of food is always front of our minds. Not just from what we're going to make for dinner in the evening, but where the production & consumption of food is heading on a wider scale. One person who is working constantly on innovation in the food and foodtech industry is Lesley Stonier, Chief Marketing Officer of Forward Fooding. The organisation works to help create partnerships between established food organisations and startups to create a brighter future of food.  Our co-founder Mecca Ibrahim caught up with Lesley to find out more about her work, the Food Tech 500 and what we can learn from big food brands. Read our interview below or listen to our podcast with Lesley kindly produced by James Haywood from OpenKitchen.
How did you get into food in the first place?
I've been working in marketing for over 15 years, and my first job out of uni was marketing assistant with Ferrero – a big Italian confectionery company and I had the pleasure of working with chocolate for around 5 years. I worked on their flagship brands including Ferrero Rocher, Kinder Surprise and Kinder Bueno. I then moved to GlaxoSmithKline on their wellness & wellbeing brands. I then graduated up through the ranks and landed the job of Head of Marketing for Lucoxade.  I moved when a Japanese business Suntory bought Lucoxade & worked with Suntory in what we called an adult startup – we had the benefit of the brands and the budget, but were creating things from scratch.
When I started consulting for start ups it meant that I had a wide range of experience on a number of different sized food and drinks brands.
With your consultancy, which you set up prior to Forward Fooding, you focus on storytelling, how important is that to food businesses? 
For me, marketing is storytelling and a very famous marketeer, Seth Godin, said that, so throughout my career, I've been developing brand stories to help develop trust in brands. I wanted to share all knowledge and skills I'd amassed to work with start ups.
What do you think start up brands can learn from larger food brands? 
I almost flip it the other way around as I think there is a lot that big brands can learn from start ups.  In part that was one of the reasons I wanted to set up on my own and help start ups. Big corporates spend millions creating brand stories and brand identities to create trust with their audiences. Whereas entrepreneurs and start ups already have that story – the journey of the founder to where they are right now and having that passion and desire to go out there and bring their product to the world. This is already innate in what food start ups are doing, but they need the power to unlock their stories and bring to the forefront of their business. They're demonstrating integrity as they believe in what they're doing and that's what attracts people to products.
How and why did you make the move to Forward Fooding? 
I first met Alessio the founder & CEO of Forward Fooding when we were both running our own businesses a few years ago. He was running a crowdfunding business called CrowdFooding at the time.  We both used to bounce ideas off each other. He approached me at the start of this year to develop a voice & story for Forward Fooding. So I did some consultancy work, we worked well together and he asked me to join the team as part time CMO.  Much of the story of Forward Fooding is recognising  that entrepreneurs hold the key to a brighter future of food.  Bringing the skill sets of pioneers and corporates  together can accelerate innovation at a greater scale. I believe corporates are struggling to innovate quickly enough and they're no longer the experts as to where food and technology are going. It's the start ups that are at the forefront of creation. Combining that entrepreneurial spirit and ideas with the corporate scale of networks and funding you can create something very powerful .
Please tell us about the FoodTech 5oo and what you are hoping to achieve from it?
We launched the  FoodTech 500 as FoodTech's answer to the Fortune 500. We wondered who was going to be the next big FoodTech unicorn after witnessing Impossible Food's astronomical  rise in share price.  The food tech industry is so diverse in terms of innovation and there seemed to be no real way to showcase all these businesses. We thought the FoodTech 500 would be a great way to do this. We launched in September. We've had hundreds of applications and we've just extended the deadline of applications to the 15th November so there's still time to apply.  If you visit the ForwardFooding website at www.forwardfooding.com/foodtech500 that's where you can apply.  In the new year we'll be ranking the businesses, in three key areas – business size, digital footprint and sustainability – which is a key factor in any business in these days. We'll be ranking based on a SDG (Sustainablity Development Goal) score. We'll be looking to release the full list in January.
Which areas have had the most applications so far?
There has been a real mix, but quite an even split. AgTech is slightly in the lead but there's still a good amount of next generation food and drink applications. So really there's all to play for.
Why are the public becoming so much more interested in sustainability?
There's a growing awareness that us as individual people can make a change and we can use our voices to have an impact on the world around us. A few years ago sustainable products weren't available. We feel more empowered and I see sustainability becoming more of a lifestyle choice as the products are now available and entrepreneurs are going out and creating products that suit their needs. Once you know that packaging can be created in a sustainable way or be biodegradable, why on earth would you choose anything else? Why would you not do something that was better for anyone?
Who do you find inspiring in the world of food at the moment?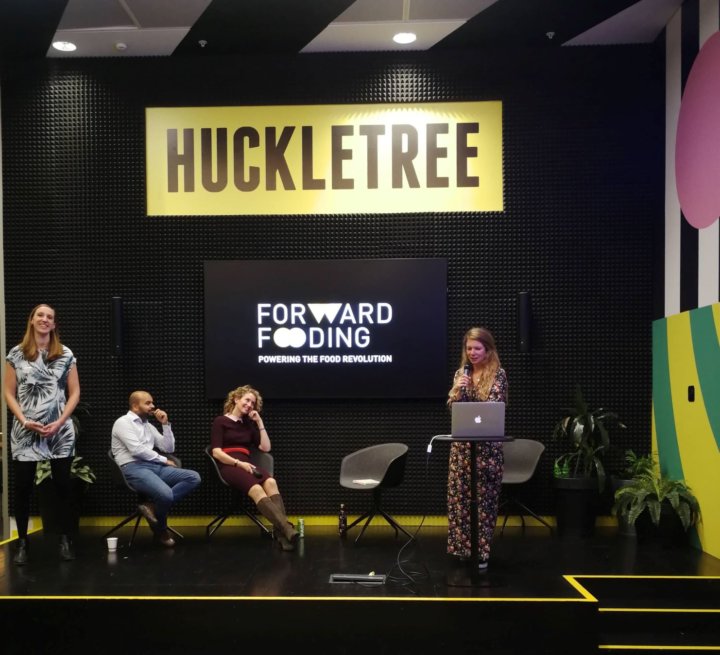 I personally think it's all the food founders. On a daily basis, I am meeting people who have seen an opportunity or identified a need that's not been met. They are investing their time, money, resources and energy into producing something that has the potential to create something to impact not only their lives but others around them and to make an impact.
You're on a desert island and you have one ingredient you can't live without. Plus if there was one dish type you could live on forever what would that be?
The ingredient would have to be a potato.  You've got a number of options as to what you can do with it. If I had to live on one thing forever it would be mashed potato!
Have you found any particular advantages of being a woman in the food industry?
There is a lot of solidarity amongst women in the food industry. There is solidarity amongst women in most industries. The more we talk about being women and that things are more challenging in some areas, the better it is. The more transparent we are about this the better.  Although I was surrounded by women in my corporate career, there were very few women at senior levels. As you grow up you see that some corporate structures aren't flexible and don't accommodate the choices many women have to make around having children and the costs of childcare.
Advantages are that women are natural leaders but we lead more in a nurturing way and with more empathy and these are characteristics that are not always values in the same way as assertiveness or aggression in the workplace.  But I truly believe this is a new time for women and we can do whatever we put our minds to.  It's time for us to stop repeating the old stories and carve ourselves new stories and ensure that new stories are heard.
What one piece of advice would you give to someone who wanted to start up a food business?
The food and drink start-up community is really supportive and encouraging. There's a lot of people you can learn from to work out if your business and idea is sustainable and whether it can grow and thrive.  Anyone setting up their own business needs to have the mental and emotional ability to go for what it is they want to achieve, but not have their hopes and dreams and self esteem pinned exactly on that. Being able to pivot and to go with the flow is critical to being a good entrepreneur. Also having that self conviction to get through obstacles and know you will find a way is the mainstay of the entrepreneurial journey.
You can follow Forward Fooding on Twitter at @forwardfooding  and on Instagram at @forwardfooding.
Our friend James Haywood from OpenKitchen has made part of our interview into a short podcast which you can listen to here.
On iTunes: https://podcasts.apple.com/gb/podcast/lesley-stonier-forward-fooding-women-in-food-industry/id1468957026?i=1000455816555
On SoundCloud: https://soundcloud.com/user-202066196/lesley-stonier-of-forward-fooding-women-in-the-food-industry-podcast
On Spotify: https://open.spotify.com/episode/4fnq6ZunMUiZDRgRQeQKBD
You can also enjoy  our previous podcasts including our podcast with Gemma Colao Managing Director & Co-Founder of OTO CBD,  podcast with chef & Le Cordon Bleu alumni Luciana Berry, our podcast with Stosie Madi chef patron of The Parkers Arms , our podcast with Katie Chesney Head of Marketing of the STK Steakhouse group of restaurants in  EMEA and our podcast with Renée Elliott founder of Planet Organic here.
View all news