12/11/2019
Interview with Nicola Matthews UK Marketing Manager of Tony's Chocolonely
Increasingly we are becoming more concerned about where our food comes from and how it is produced. Chocolate is a treat for many and generally makes us feel good, but it may not always be sourced from a good place. Tony's Chocolonely is a brand which aims to bring about slave free chocolate.  Our co-founder Mecca Ibrahim caught up with Nicola Matthews, their Marketing manager in the UK and Ireland to find out more about Tony's work,  what they are doing to make their slave-free chocolate mission global and how they balance that serious mission with their bright, bold and somewhat crazy products.
How did you get into the food industry in the first place?
I started my career at Diageo, the global spirits and alcohol company. I studied business management at university and I knew that I liked both sales & marketing but didn't know which area to specialise in.  I got a good feeling about the culture of Diageo, which has always been important to me and I joined their graduate programme.
You now work for Tony's Chocolonely as marketing manager, could you tell us more about Tony and how he came about with the name Chocolonely?
Tony is actually Teun which is the Dutch name for Tony.  Tony's was started in Amsterdam by a group of journalists who were researching a TV show called Food Unwrapped.  They delved into the food industry to try to uncover some of the more shady things in different food supply chains. When they investigated cocoa and chocolate they discovered there were 2.1 million children who work illegally on cocoa farms in Ghana and the Ivory Coast, which is where 60% of our cocoa comes from. There's also at least 30,000 instances of human trafficking and modern slavery, purely because the big chocolate companies don't pay enough for their cocoa and the farmers are living in systemic poverty. Tony and his journalist team wanted to speak to the companies to see what they could do to change things.
At that time none of the big companies were interested, so they decided to do something themselves and change the industry from within.  They created their own chocolate bar with the mission of being 100% slave free and they called it Tony's Chocolonely as it was his lonely fight against inequality in the chocolate industry.
You're on a serious mission yet your brand is very fun and has a feel of Willy Wonka about it, how do you balance this fun approach with the slave free chocolate message?
We always say that we are crazy about chocolate but serious about people. It's a really serious mission that we're trying to achieve.  But we need to be as accessible as possible from the brightly coloured packaging to the unique flavour combinations and from the way we talk to consumers & fans. We need to do this to create the most impact. Also we're a challenger brand so we didn't want to look like every other chocolate brand on the shelf. This tension between serious mission yet a crazy approach has worked for us so far.
Design is really important to Tony's – tell us more about how the uneven segments of chocolate came about?
We used to be shaped like a normal chocolate bar at the start. But we decided that it didn't really represent what we were about. As the chocolate industry isn't equally divided we decided that our bars shouldn't be either.  The biggest source of feedback we get from people is that they love our chocolate but they are frustrated that they can't share it equally.  But that's exactly the point. The chocolate industry isn't equal. Until the profits are shared more equally, and there is more equality between the stakeholders in the chain, our chocolate will stay unequally divided too.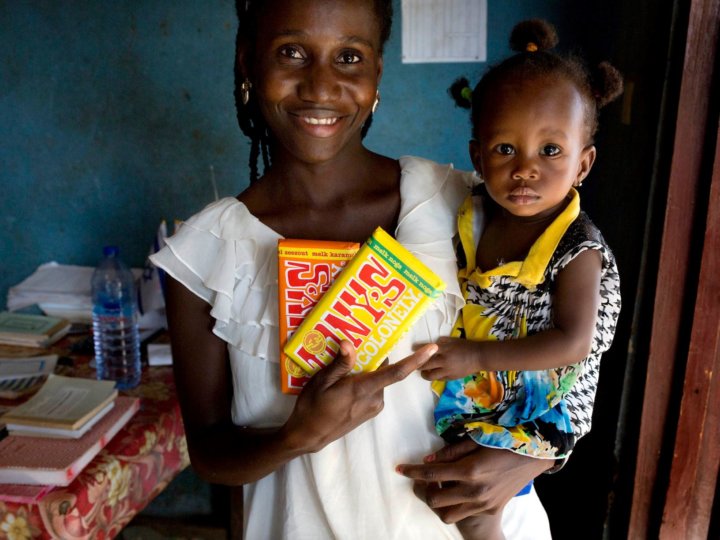 How are you encouraging other chocolate companies to become more responsible?
This is our biggest mission.  We can't change the industry alone.  We need consumers, retailers, governments and, most importantly, other big chocolate companies to join our mission too. We have developed five sourcing principles, and five rules for producing slave-free chocolate,  which can be accessed through Tony's Open Chain. Any chocolate company or manufacturer can access to see our principles and our secrets.
The great thing is that people are already doing this. We have number one market share in the Netherlands and their biggest retailer is Albert Heijn and last year they announced that with their private label chocolate range – Delicata – they were going to join our mission and become our first mission ally. This has significantly increased the amount of cocoa sourced according to our sourcing principles. This means farmers are earning a living income. They have a 5 year contract with us, there's a fully traceable supply chain so we can see & take responsibility of where the beans are coming from.  This is what we are aiming for in the UK too as that's where we can make the most impact.
Getting listed in major supermarkets in a very crowded market is hard, how did you manage to get those very first listings in the UK in Sainsbury's and Whole Foods?
We've very lucky in that the brand was already established in the Netherlands.  A lot of people travel through the Netherlands and had seen us. A number of the buyers we had met had already seen Tony's and were fans of the brand.  So most of the buyers were keen to stock. Our success in the Netherlands has shown there's a gap in the market for consumers looking for ethical chocolate, and that most people don't even know there is a problem in the cocoa supply chain.
You've done no paid media as such, and haven't bought any advertising, so what types of marketing have you been doing, and what has been the most successful for you?
So we do no traditional above-the-line media. Although we broke that once  this year when we took out a full page ad in Dutch media, to lobby the government to put in place our version of the modern slavery act, so we are not completely wedded to it when it's furthering our mission.
But in the UK our bar itself is our biggest form of marketing. The packaging is bold and it's brightly coloured. It tells our story on the inside of the wrapper. The divided pieces tell a story. We say to people share our chocolate and share our story and they do.  We do lots of sampling, our chocolate is so delicious that when people try it they have to buy it. There's sampling at events, at trade shows, we do lots of weird and wonderful sampling activities.
Then there's social media which is a great way for us to have conversations with our choco fans and what we call our serious friends. We can talk straight back to people on social. We have done some great experiential events too. In the US there is a giant Tony's Choco Truck that's been going round the States. We also do a lot of PR too to get the mission and message across.
Tony Chocoloney's is now one of the best-selling chocolate bars the Netherlands, do you feel it's possible for you the reach the same dizzy heights in the UK?
I'd like to think so. The UK chocolate market is huge so we do have a long way to go. But our ambition is that we grow large enough for retailers, government and other big chocolate companies to take notice of us and what we are doing. Also so that enough consumers are rallied enough behind us and are asking big chocolate brands what they are doing to make sure there's no illegal labour in their supply chains.  If we can just make enough noise and impact to get all of those key stake holders to start doing something, it's the quickest way for us to have an impact.  Number one market share isn't our goal, what's more important is working to make slave-free chocolate the norm.
Looking at your about us page, you all have fairly "unusual" job titles – including yours "Countess of Chocolate" – do you come up with your own job titles, or do they get allocated to you over time?
We have a project group in the Netherlands who come up with  everyone's Tonys choco title when you join the company. It's based on a questionnaire you do when you start. So you have a photo and a mug shot which actually appear on our mugs too. Our titles reflect our unique personalities as well as what we do.
Who are some of the people you find most inspiring in business and in the food world?
B Corps companies like innocent and now Pip & Nut, companies that have built out from a founder who has a real passion or seen a real consumer need but have really kept true to themselves, I find those companies really inspiring. I love innocent's tone of voice and social media and a number of people joined Tony's from innocent – so there are little cross overs in our culture. I also love Livia's Kitchen. Olivia Wollenberg is another example of someone who identified a consumer need from her own needs (she has a number of food intolerances) and she's built a food business on social media by being truly authentic with her fans and followers from the start.
You're on a desert island and you have one ingredient you can't live without. Plus if there was one dish type you could live on forever what would that be?
I put salt on everything but you have plenty salt on desert islands so I wouldn't need to take that with me.  So I think it would have to be chocolate, I have such a sweet tooth I can't live without it. The dish type would have to be my dad's roast dinner.
Have you found any particular advantages of being a woman in the food industry?
I'm actually really lucky that I've worked for some very balanced organisations. Diageo was really balanced, there was some amazing senior women as well as senior men that I learnt so much from. Same in Tony's. I've never felt that my gender has been a benefit or a hindrance.
What's the biggest thing that you know now, that you wish you could have told your younger self when you were starting out?
I've got two things. My mum's advice that I just live by – what's meant for you won't pass by you. I really believe that if you work hard enough, and try hard enough, what's meant to be will happen. Sometimes things don't work out but they end up working out better in the future. Then from my time at Diageo when I first became an account manager and was really stressed about targets, I got some advice that "it's just boxes and not blood".  I was told we are selling booze and not saving lives. At Tony's we work hard and we want to really achieve things, but there's no point in being stressed all the time. Perspective and prioritising is really crucial for having a good work life balance.
For more you can listen to our podcast with Nicola Matthews of Tony's Chocolonely here. 
You can follow Tony's Chocolonely on Twitter at @TonysChocoUK_IE and on Instagram at @tonyschocolonely_uk_ir
You can also enjoy  our previous interviews & podcasts including our interview & podcast with Gemma Colao Managing Director & Co-Founder of OTO CBD,  interview and podcast with Lesley Stonier CMO of Forward Fooding, our interview with food mentor Karen Green, our podcast with Katie Chesney Head of Marketing of the STK Steakhouse group of restaurants in  EMEA and our interview and podcast with Renée Elliott founder of Planet Organic here.
View all news