24/03/2023
Top of the plants on Great British Menu
Great British Menu Series Editor, Antonia Lloyd, tells us about how the chefs rose to the challenge of the brand new plant-based starter.
This year on Great British Menu it was our intention to shine a light on plant-based cookery and the importance of sustainability as a way to inspire our professional chefs and, hopefully, our audience.
With Great British Menu in its 18th series, we thought it was high time the competition had a purely plant-based course that would truly celebrate vegetables and scrutinise vegetable cookery and, in our own small way, demonstrate this more sustainable, low carbon approach.
Our professional chefs were tasked with creating a vegan starter using local vegetable suppliers and without dairy that could be worthy of opening the Banquet at the Royal Pavilion in Brighton. We needed the chefs to create not just high flavour impact but also embrace this year's visual theme of British animation and illustration for Paddington's 65th Birthday. Of the 32 chefs competing this year, three of them are holders of the exclusive Green Michelin Award recognised for sustainable practices at their restaurants. We were therefore hopeful that they could produce interesting results as they set about championing vegetables, using their favourite local suppliers, in myriad ways.
How to achieve perfect vegetable cookery became the hot topic on the starter course. Even for top chefs in the thick of competition, it can be just as hard as achieving the perfect pink cuisson in a venison rack or the caramelised crust of a scallop that belies a perfectly cooked springy interior. Each vegetable had to be considered like a member of an orchestra whose voice needed to be heard and in harmony with the others, and the very best method of cooking considered to extract maximum flavour and deliver the perfect texture.  As the veterans judged, it was clear that the worst offence was to 'lose' the vegetables whether through lack of seasoning, incorrect method of cooking or overpowering their natural flavours with competing stronger elements on the dish. To create a fine plant-based course takes considerable skill and the finest achieved a harmony, balance and clarity of flavour that would dance and sing on the tastebuds.
Many turned to the mighty mushroom for maximum flavour relying on local suppliers for classic as well as unusual fungi: the maitake or hen of the woods were a fail-safe choice and popular when barbecued, glazed, paired with grains, savoury porridges, broths and even to enhance a watercress velouté. Dried ceps, trompettes and shitakes helped enrich stocks, mushroom broths as well as bringing extra depth to the cooking of puy lentils.  The rarer lion's mane mushroom made an appearance on Green Michelin starred Cal Byerley's starter that was in truth a fungi festival.  There was a creative mushroom cookie flavoured with trompette powder to go with a mushroom broth from North West's Danielle Heron in her Womble starter. Black garlic puree and truffle were also favourites paired with mushroom elements to bring out their earthy qualities and boost the depth of flavour.
The humble carrot was popular and utilised in original ways. Mark Threadgill from Wales extracted maximum flavour using koji, a fermented rice, and then cooked them in carrot juice and combined with puy lentils and carrot crisps – the guest judge, presenter Gethin Jones, declared it the most carrot-y dish he'd ever tasted. A visual recreation of a carrot inspired by Wallace and Gromit was prepared by Nick Beardshaw of the South West – a crispy fried potato shell was filled with a vegan feta mix brushed with gold powder and sitting on top of a carrot royale and served with an anti-pesto parsley garnish.  Robbie Lorraine made carrots, carrots and more carrots (as an ode to Rabbit's Garden in Winnie the Pooh) with a spiced carrot samosa, carrot and cardamom lollipop and an aerated carrot cornetto. This was fun, playful and in most part packed with flavour.
There was a lot of support for earthy Jerusalem artichokes delivered in purees, crisps and foams; the versatile potato cropping up as a supporting act more often than the star vegetable; and the nutty celeriac that even became a dragon's egg! Thom Bateman for Central created an innovative dish shaping celeriac into eggs, glazing them in miso, mirin and sake before compressing and steaming to create a dragon's egg – finished with potato scales! Gareth Bartram for the North East created a crispy twice cooked potato spiral ribboned and coated in vegan butter, thyme and truffle and served with a Jerusalem artichoke puree.
Other original ideas to hit the pass included Adam Handling's red pepper custard with ponzu tomatoes and a red pepper tuile to look like a lion's mane for his Aesop's fable, and Avi Shashidhara's Gruffalo inspired deep fried papadi chat with sev snakes made with chickpea flour served with pumpkin, tomatoes, pomegranate and coconut yoghurt: a bowlful of texture, sweetness and spice.
There were also attempts that were original in concept even if they didn't achieve top marks in the heat of the competition. Nigerian born Tunde 'Abi' Abefarin for Scotland prepared plantain 'bacon' made from plantain peel served with a plantain hummus to celebrate Bananaman – a brilliant example of utilising leftovers creatively; Marianne Lumb for Central created a vegan pork pie layered with British pulses and crab-apple jelly in a hot water pastry for a centrepiece in a vegan ploughman's; and Filipino born Budgie Montoya made a Philipine kare kare out of pumpkin – he blitzed pumpkin seed butter, miso, garlic and onion for a pumpkin kare kare puree and served it as a garden floor with a puffed rice and seed edible soil.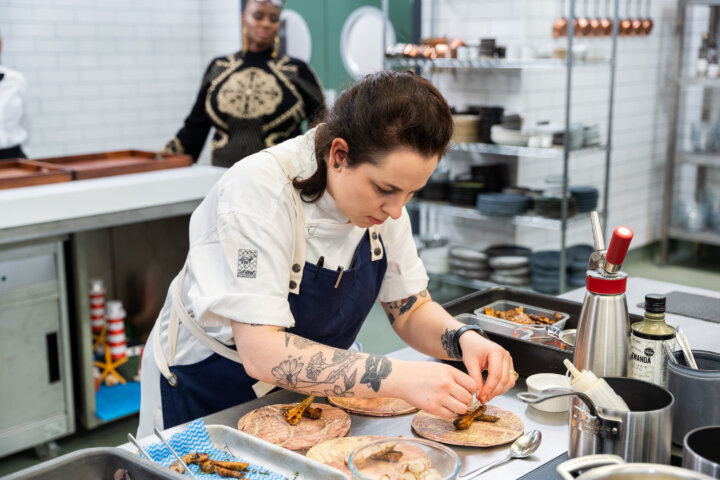 This plant-based challenge encouraged creative use of waste elements both in this course and set the tone for the chefs' whole menus. Leftover Jerusalem artichoke peels and beetroot were turned into crisps, sourdough waste became crumpets, tomato skin was used in a tuile, broad beans were served in multiple ways – freshly grilled and salted, fried and crumbed.
A sustainable approach to cookery is better for our long-term health and the future of our planet – choosing to cook meat free meals (which reduces our reliance on high methane foods), incorporating more local veg and plant-based dishes in our day-to-day eating, using up leftovers, and sticking to seasonal produce – but in a competition like GBM, is by no means an easy option.
As we near Finals, only the best eight chefs from across the UK remain and that includes North West's Danielle Heron and Northern Ireland's Gemma Austin. Which vegan dish will the judges choose for the Banquet that achieves all those finer singing and dancing points and more? Tune in to BBC Two on Monday 27th March at 9pm to find out what will be deemed top of the plants!
Great British Menu Series Editor, Antonia Lloyd, is also an Ambassador for Women in the Food Industry. 
Can catch up with the great women chefs we interviewed on Great British Menu 2023 here. 
View all news