07/09/2019
The Cookbook Festival 2019 – 12th – 16th September
The Cookbook Festival returns to Chiswick from 12th to 16th September 2019 as part of the Chiswick Book Festival.  The festival has a great and varied line-up of chefs; every single one with their own fascinating approach to cooking and inspirational stories to share. If you are looking for an  intimate venue where you can meet and see the authors in action cooking and talking about their food, recipes and kitchen style, then this is the event for you. Read on to see how you can get a 50% Women in The Food Industry discount to some of the special events below.
The Chiswick Book Festival and the Cookbook Festival are community events, which give all their profits to charities, including St Michael & All Angels Church, which runs the Chiswick Book Festival. In January 2019, they donated £3,000 to each of three charities – InterAct Stroke Support, DoorstepLibrary and RNIB Talking Books, a Festival charity for the past ten years, which is being succeeded by UK food charity The Felix Project. All of the  charities are given stalls at the Festivals, to raise awareness and attract new volunteers, and The Felix Project will be very visible in Chiswick this year.
A number of the demos, workshops, lunches and suppers are already sold out, but at time of writing, here are some festival highlights you can still book:
Danish Summer Lunch with Trine Hahnemann
Trine Hahnemann is the author of many bestselling cookbooks including Copenhagen Food and Scandinavian Christmas. As CEO and founder of Hahnemanns KØKKEN she provides about 3,000 daily lunches with her team in private and public companies in the Copenhagen area. Trine Hahnemann's legendary lunches focus on organic sustainability but mainly deliver on modern Nordic flavour.  Join her for a summer lunch in Chiswick on 13th September.
Prajna Indian Summer Feast & Book Launch with Mira Manek – Ayurvedic Indian Supper Club
Mira Manek's new book – Prajna –  will be launched at the festival. Mira will be exploring the subject of Ayurveda, the traditional Hindu practice of medicine, whilst you can enjoy a sumptuous 3 course vegetarian Indian banquet with recipes from her book, Prajna.  The launch and Indian Summer Feast is on Friday 13th September – UPDATE – this sold out but we went and had an amazing time!
Asma Khan's Indian Kitchen, Home-cooked food brought to you by Darjeeling Express
For Asma Khan, every meal should be a feast of flavour whether it be a simple repast for two or a banquet for twenty. Founder of Darjeeling Express and the first UK chef to appear on Netflix's The Chef's Table, our friend and supporter, Asma celebrates her Mughlai ancestry with sumptuous but easy to prepare dishes. Join her for a culinary journey along the Darjeeling Express from Bengal through Calcutta and onto the foothills of the Himalayas. Asma is running a demo with tastings on 14th September.
Nightingales and Roses with Maryam Sinaiee
Winner of The Guild of Food Writers First Book Award 2019, Nightingale and Roses is a celebration of Persian home cooking. Maryam's passion was brought to life through her family's food and is interwoven with her love of Persian culture and history. Taste the rich flavours infused with the romance and drama of Persia with her demo on 14th September.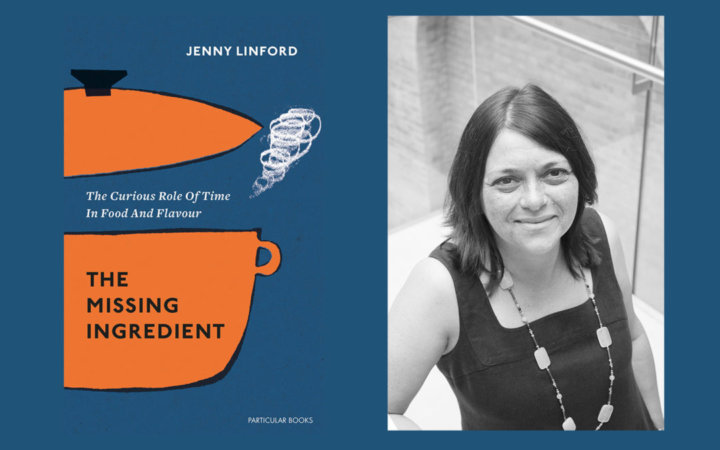 Jenny Linford is fascinated by the unseen ingredient of time in cookery and the role it plays in developing flavour, from the split-second timing of a caramel or the days required for fermentation. Jenny will be running an insightful demo on 15th September.
The celebrated author of The Flexible Vegetarian, Jo Pratt now turns her focus to fish. Whether you're trying to cut down on your meat intake, eat more healthily or simply love seafood, Jo's unfussy, tried and tested recipes will help you put more fish on your dish. Discover more at Jo's demo on 15th September.
We're delighted to announce that the organisers have given all Women in The Food Industry supporters a 50% discount off ALL of the recommended  events above PLUS events by Saliha Mahmood Ahmed, Lindsey Bareham, Elisabeth Luard and Kay Plunkett Hogge! Please use the code COOK2019 when booking. NB – The code does not apply to workshops.
For the full programme of events visit the Cookbook Festival website or follow them on Twitter @cookbookfestiv1 or Instagram on @cookbookfestiv1
You may also be interested in the following features – The Guild of Food Writers Awards Winners 2019 and Food Bigger Than The Plate Exhibition at the V & A.  
View all news