03/03/2023
Roux Scholarship sees the most female chefs ever among its 2023 regional finalists
This year's message from the Roux Scholarship competition was clear from the start: they needed more women to enter to make sure to get more female finalists through the blind-judged first round. Following a Round Table discussion in October, which resulted in the publication of a White Paper addressing the challenges faced by female chefs working in the UK hospitality industry, the Roux Scholarship was ready to welcome them with open arms.
The result? Four female chefs qualifying for the regional finals. We meet them ahead of the  regional finals on March 9th at University College Birmingham, and University of West London in Ealing.
Nicole Benham-Corlette
Sous Chef, Boathouse 4 restaurant, Portsmouth.
Nicole grew up in South Devon and has always loved cooking. As sous chef at Boathouse 4 restaurant in Portsmouth she met fellow finalist Ruth Hansom after she became the chef partner of Boathouse 4.
"I was blown away by Ruth, she's an incredible chef, a lovely person. Meeting her was pivotal for me as it made me rediscover my love of fine dining food," she says. Her desire to enter was inspired by another finalist, too.
"After reading an Instagram post by Sabrina Gidda about attracting more diversity within the Roux Scholarship, I thought to myself 'why not?'. It was amazing to see that someone like me, 'a woman of colour' took part and thrived," she says.
Entering was the first step, but impressing judges in the blind-judged recipe challenge is the next. Nicole's recipe proved popular among the judges.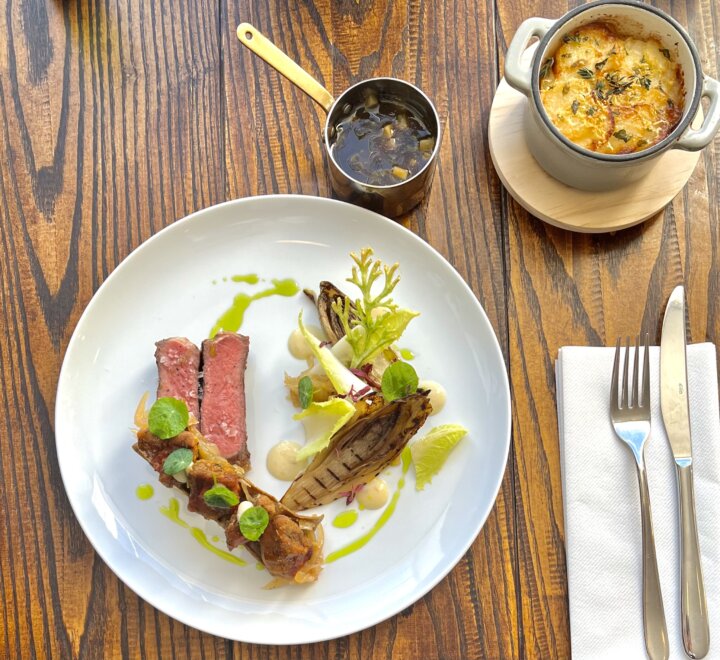 "My dish is the classic combination of 'steak and kidneys' but reinvented and reimagined using elements of the French fundamentals," says Nicole. "We were tasked with using dry-aged sirloin, one type of offal and some Belgian endive/chicory. The aged sirloin is a fantastic cut that really does speak for itself. Therefore, it was clear from the outset that we had to balance these ingredients and make the offal shine through, being a somewhat lesser-known cut, I thought it was critical to highlight the offal."
The challenge also included chicory as an ingredient. "Chicory is bitter, but using the right cooking techniques you can release the natural sweetness."
She's excited to get going in the finals on 9th March, when she is competing in London. "I have nothing to lose; I feel truly honored and I want to show other woman like me – self-taught, mixed race – that they
can do it too. I'm going to give it my best shot!"
Ruth Hansom
Head Chef, Swinton Estate, Yorkshire Dales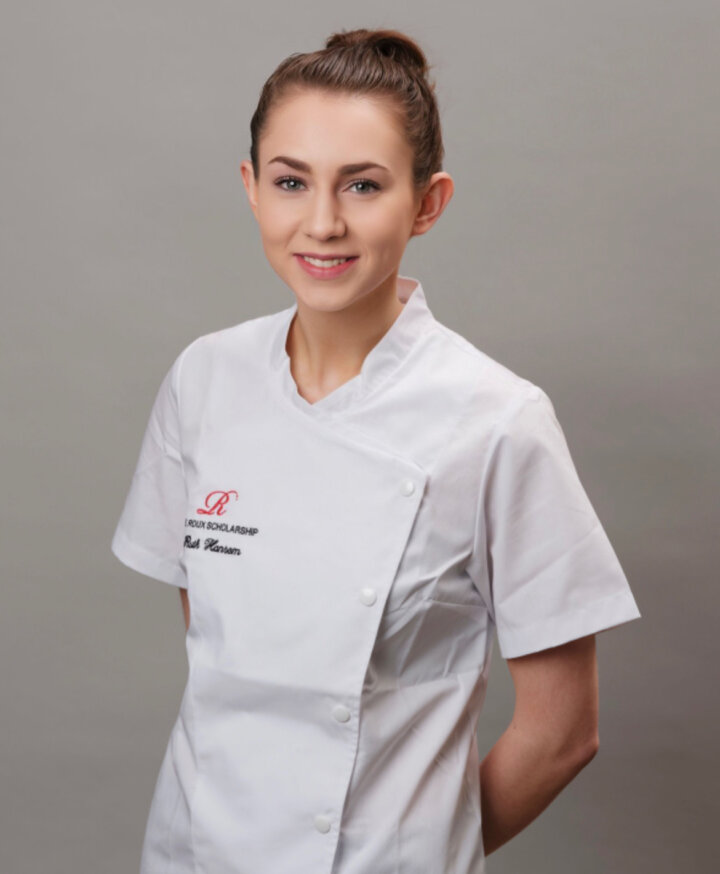 This will be the second time Ruth has taken part in The Roux Scholarship, as she made it through to the national final in 2022.
"It's a relief to get through to the regionals again and also lovely to see some more female chefs as well as peers from areas of the industry, who perhaps would not have entered previously, in the run this year," she says.
Her recipe was Dry Age Heritage Sirloin of Beef, Beef Heart Beignet and Sauce, Chicory and Pickled Walnut
Salad, Roasted Cauliflower Puree, Chicory, Pear and Stilton Tarte Tatin. It was chosen by judges in the first round, which is assessed on the recipe alone, and it impressed the judges– particularly James Martin who really liked the sound of the tarte Tatin.
She says: "I thought the brief was great this year I love using cuts of meat to star in or enhance dishes. I'm pressure-cooking the beef heart to make beignets. By pressure cooking, it also allows me to get more flavour into my sauce as no stocks are allowed."
Ruth grew up in Darlington and has worked at The Ritz London, as well as as head chef at Pomona's and The Princess of Shoreditch. She is now head chef at The Swinton Estate in the Yorkshire Dales and is
competing at the Birmingham regional final.
Lucila Mattiauda
Seven Park Place by William Drabble, London
Lucila comes from Buenos Aires in Argentina and works as Seven Park Place by William Drabble, in London, as a sous chef. As well as being fluent in English and Spanish, Lucila also speaks Hungarian. Prior to working at Seven Park Place, she has worked at The Clove Club and at Neal's Yard Dairy as a cheesemonger.
It is Lucila's first time entering the competition, and she says: "I have been following it and thinking about it for years. I wanted to enter last year but the timing wasn't right. But this year I had to make it work because I have just turned 30."
The recipe applications are judged purely on merit, so the judges don't know the name, place of work or any other details about the chef. Lucila's entry impressed them – her Sirloin of Beef and Ox Heart 'Black Pudding' – and shone through, despite her feeling a little daunted to start with.
"At the beginning, it was a bit challenging to decide which offal would have a shorter cooking time and a better final result. I had never cooked ox heart before but it turned out to be extremely tender and adaptable to different techniques. As I am from Argentina, beef has always been a favourite."
Lucila is competing in the London regional final.
April Lily Partridge
Sous Chef, The Ledbury, London
April Lily Partridge is sous chef at The Ledbury in London. She was encouraged to enter The Roux Scholarship by two of her friends, who happen to be previous winners Ian Scaramuzza and Oli Williamson.
"They said it was an amazing experience that changed their lives," says April, who is no stranger to competitions having previously been a finalist in National Chef of the Year.
She has an impressive CV, having previously worked at The Clove Club in London and at Blue Hill at Stone Barns in New York State, USA. Her recipe of Striploin of Dry-Aged Heritage Beef with Endive, Chervil Root , BBQ Beef Heart, Ponzu Hollandaise and Kampot Pepper Sauce impressed the judges in the blind-judged first round and she will be competing at the London regional final. If she makes it to the national final, the kitchens of Westminster Kingsway College will be familiar to her, as that is where she trained, having grown up in Essex.
You may also be interested in our interviews the following chefs: 
Ruth Hansom on making the Roux Scholarship finals in 2022 and Olivia Burt on making the Roux Scholarship finals in 2022. 
View all news