21/11/2023
City Harvest : Reducing Food Waste & Giving Surplus Food Another Life at The Covent Garden Supper Club
On November 18th 2023, City Harvest showed how surplus food was given another life at a wonderful event. Together with their friends at London's Community Kitchen they co-hosted a Covent Garden Supper Club at The Conduit.  The supper acted as a great introduction to see how London's first  surplus food distribution charity are making positive changes in their efforts to reduce London's food waste. Our co-founder, Mex Ibrahim, reported on the evening.
The Covent Garden Supper Club held monthly at The Conduit is committed to making a positive impact. It works with local charities to supply food and essentials to citizens who are currently homeless in and around Covent Garden. Diners who attend pay a fixed fee, and the proceeds go towards supporting London Community Kitchen's Let's Feed London Campaign, which support more people across the capital who face food insecurity.
City Harvest's 'The Beauty of Food Redistribution' exhibition (created by the artist Yanis Georges pictured above right with Fiona Hollis City Harvest's Head of Communications) set the scene as City Harvest presented videos and led conversations of how we can help to make positive change and join forces for good.
Since 2014, City Harvest has been on a mission to reduce food insecurity and protect the planet by diverting quality, nutritious, edible surplus food from waste and redistributing it to those facing food poverty.  It is driven by passionate individuals, surplus food, and data-driven logistics, and the new collaboration sees diverse UK-based artists shed light on the value and beauty of sustainable food redistribution.
The Charlie Bigham team (pictured above) had prepared a beautiful meal using surplus food that would have normally been wasted. They were only given the ingredients they had to work with three days before the event and were also tasked with making 100 extra portions for City Harvest's friends on the streets who would receive the dishes too.
Charlie Bigham's are one of the leading names in the food industry, who sit on City Harvest's Food Council. From restaurateurs to retailers and farmers to financiers, the Food Council works with the team at City Harvest to achieve their overall aims – Rescuing Food, People and Planet – through thought leadership, engaging with decision-makers and more.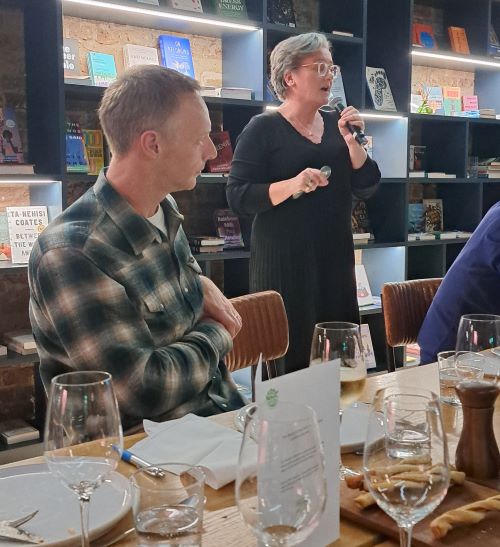 Sarah Calcutt, CEO of City Harvest explained the work of the charity and also presented videos of key industry figures they are working with. She said "It was wonderful to be able to show Minette Batters, the NFU (National Farmers'​ Union) President, everything that we are doing to collect surplus and waste British produce and giving it great purpose, whilst saving growers money of course!"
We were shown a video of Minette Batters who spoke about City Harvest London's Food Report key findings & why City Harvest's partnership with the NFU is crucial for farmers.
Taz Khan MBE chef and founder of London's Community Kitchen and Founding Member of The Covent Garden Supper Club, said "Another successful Supper Club with a difference, this one was extra special because our friends at City Harvest London were the hosts.
"City Harvest London led by Sarah Calcutt and her dedicated team, wholeheartedly embody a genuine passion for creating meaningful change. Their remarkable work not only involves preventing quality food from going to waste but also positions them as an essential part of London's 4th emergency response team. Their unwavering commitment ensures that no Londoner goes hungry, which is both admirable and commendable."
You may also be interested in the following: Surplus Food Charity Plan Zheroes looking for Recipes for their New Cookbook,  Interview with Laura Winningham (Co-Founder of City Harvest) and Meet Cathy Benwell – Co-founder of A Good Thing: Connecting Less to Landfill and More to Good Causes.
View all news