22/10/2023
The Biskery – Bespoke, Personalised Biscuits Brand led by Mothers
The Biskery  a personalised biscuits brand, create bespoke, artisan biscuits for businesses and consumers. Saskia Roskam shares the story of how she and fellow digital marketeer, Lisa Shepherd came to set up the brand and company, which now offers other mothers flexible work at their award-winning sustainable business.
At The Biskery we create bespoke artisan biscuits for everyone wanting to get their message across in the sweetest way – businesses and consumers alike.
Our focus is on quality, a personalised service, and sustainability in all areas. 
It is our mission to connect people by spreading kindness in biscuit form. All whilst empowering  working mothers by normalising part-time employment, and family-friendly approaches to work.
Today our mission and vision are very clear. But they took a long time to distil. In fact, when we started in 2016 we were called: Bloom Bakers and we baked so much more than biscuits!
Digital marketers start a Germanic bakery
This little bakery was brought to life by Lisa Shepherd and me, Saskia Roskam. We met in 2013 when we both started working at a digital marketing agency in Leeds. In that office we bonded over our shared love of great tasting bakes. A passion, we hoped back then, might see us open up a cafe one day! During the four years that followed we emailed during office hours about our dream. During those three years, we became friends and we both became mums.
In 2016, when time was more precious than ever, when Lisa was mum to one baby and I was mum to two children under five, we decided to give our baking idea a go! We secured a stall at a monthly market in Leeds (Kirkstall Deli Market). Here we sold our high-quality bakes inspired by the flavours of our home countries (Germany and The Netherlands). We baked Linzer cookies, Dutch apple pies, red wine cakes, almond biscuits, spiced button biscuits and so much more!
The Birth of a Personalised Online Bakery
Our professional background is in digital marketing, which is why we created a website as soon as we started. We knew how to do Search Engine Optimisation (SEO) to be found online. 
A year into the business people started to find us online. And it transpired that our biscuit offering was very popular. Mostly because it allowed for personalisation both for consumers and businesses alike. In turn, it also worked for us as mums. We could bake more biscuits in ten minutes than cakes. Plus biscuits have a longer shelf life and took up less space in our home kitchens. 
So for private orders, we created personalised birthday-, anniversary-, new home biscuits, etc. For our business clients we created unique logo biscuits, prospect boxes, PR mailers, etc. Each and every order was always exclusively made for that person or business.
The Biskery's Great Taste Awarded Jam Biscuits
We were soon starting to get a fair bit of traction online, but in our day-to-day lives we were still working in our 9-5 office jobs (albeit part-time). Then Lisa had another baby along the way.
Business was going well. We were baking biscuits (from our home kitchens still) for the likes of Amazon, KMPG, Fendi and many more. At this point I should mention that Lisa and I have never accepted any outside investment. We invested £500 each in the first three months of setting up the business. We reinvested all our profits over the next three years and didn't pay ourselves a salary. We didn't really need to as we were both still in employment. 
The making of a brand and personalised business
COVID-19 turned out to be the making of our business. In the first place it made us understand what we were actually selling. We were not 'just' selling biscuits, our real product was kindness and connection, which we spread and facilitate one biscuit at a time. 
We discovered this when, during the first lockdown, we started giving away free kindness biscuits. Lisa and I wanted to do something during that uncertain period and the only way we knew how to was by baking biscuits.
We mentioned on our website and social media pages that people could send us an email nominating a loved one who they wanted to send a free jam biscuit. The jam biscuits had messages that said "Stay Safe", "Missing You", "Thinking of You", and "Hugs & Kisses". We received the most heart-warming messages from those who had sent the biscuits with pictures of the recipients oftentimes in tears at receiving their little jam message biscuit.
It was at this moment we understood the power of our product, our true service, and our purpose with this business. That, and the fact that I was made redundant in the summer of 2020, changed the trajectory of our business. Lisa quit her job in January 2021.
As we were now fully committed to the business, we moved the operation out of our home kitchens and hired our first three employees on a part-time basis.
Working mums
We started this business as working mums to small children. We understood from personal experience that working mums need flexibility. We understood that mums want to contribute to the financial stability of their families. And we understood that no working mum is the same. Some are the main breadwinners. Some are single mothers. Others work because it fulfils them outside of motherhood.
Whatever their reasons were, we wanted to make sure that we could offer them what they needed, and still feel like they were doing a good job as a parent. That is why we, in the first instance, offer all of our team to work school hours only.
We have since grown to a team of nine. In November 2022 we moved into our new premises in North Leeds. In January 2023 we rebranded to The Biskery. 
Sustainable and of Quality
We love this business. It is a real passion project. Much of both our personalities was put into the creation of the brand. We truly care about our customers. We want them to have a great experience gifting and eating our biscuits. We want them to know us as people. As such we choose to make ourselves available to speak to people over the phone, via email and in person. Running a human-to-human business is deeply important to us.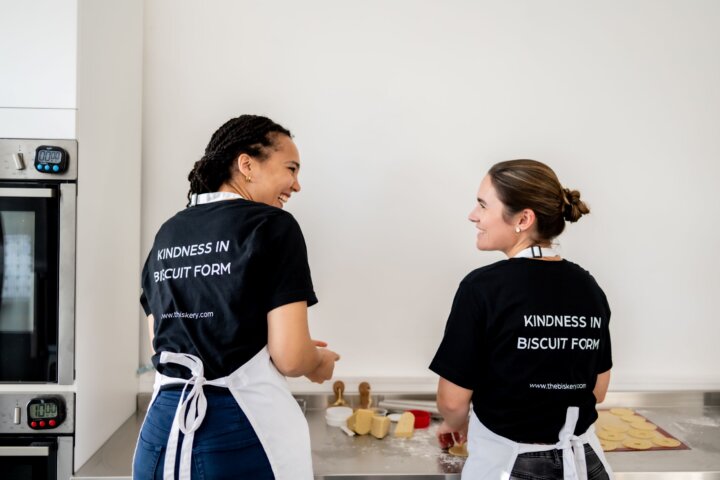 Our business is not about optics. It is about quality and sustainability in all areas. From the way we produce our biscuits (exclusively to order) to avoid food waste, to the fact that all our packaging is made from recycled materials, is either recyclable or compostable. All the way to how we employ people. The process has to be sustainable and the product has to be of quality, otherwise you have to ask yourself, what is the point?!
You can follow The Biskery on Instagram, Facebook and LinkedIn. You may also like to read our Review of Rising Hope – Recipes and Stories from Luminary Bakery & Interview with Rachel Stonehouse and Kaila H. Johnson.
View all news