03/11/2023
Lily Morris wins Young Cheesemonger of The Year 2023 in The World Cheese Awards
Congratulations to Lily Morris who became Young Cheesemonger of the Year 2023.  The 21 year old from Morris' of Usk Garden & Food Centre in Usk, Monmouthshire, south Wales  picked up her honour at the World Cheese Awards held at the Trondheim Spektrum, Norway.  The Academy of Cheese run the contest which champions new talented cheesemongers under the age of 30.
How Lily impressed the judges
Beating five other finalists in four different rounds to win the title, Lily, impressed the judges on 27th October 2023 with her considered cheeseboard suggestions, made up of British and Irish cheeses. There was a Norwegian twist running through the selections and her accurate cut-and-wrap skills and  knowledge of cheeses helped to secure her victory.
Lily is an Associate of the Academy of Cheese. She passed her Level One exam in August 2022 and is currently studying towards her Level Two certification. Part of her Young Cheesemaker of the Year prize includes five Level Three modules, leaving her with just three more to complete to become a Fellow of the Academy and on the path to becoming a Master of Cheese.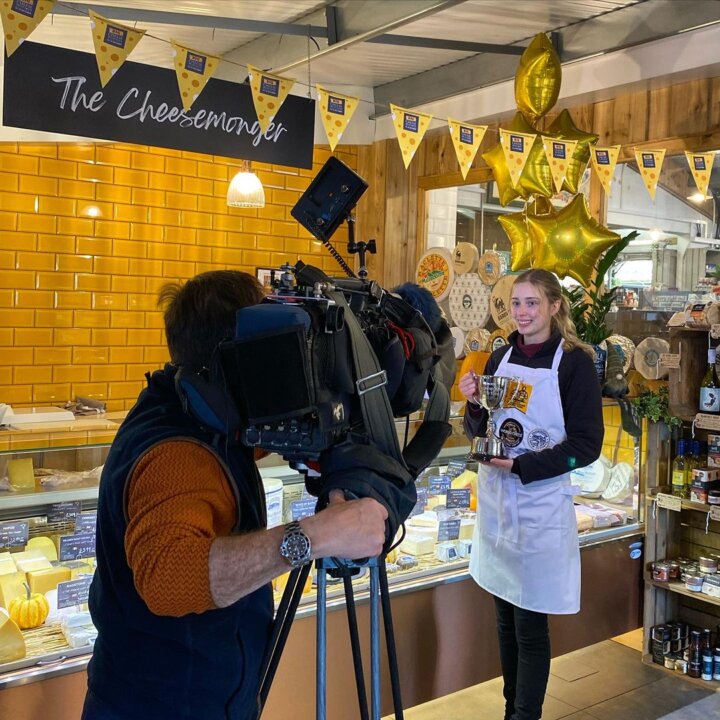 Lily's passion for cheese
Lily, has been selling cheese from her family's business for six years and hosts an engaging Instagram channel about fine cheese, she said: "I am honoured to have won Young Cheesemonger of the Year 2023. It was the best day, surrounded by thousands of tasty cheeses and lots of lovely cheesy people. The award has inspired me to continue my cheese career, selling and educating others about artisan cheese, and most importantly, it has reminded me to keep spreading the message that it doesn't matter who you are, if you have a passion for something; go do it."
Academy of Cheese inspire next generation of cheesemongers
As the judges deliberated, Tracey Colley of The Academy of Cheese spotted the previous Young Cheesemonger of the Year, Aimée Rogers from Buchanans Cheesemonger, in the audience and invited her onto the stage. When asked whether her life had changed much in the past year, Aimée reminded us all that winning the title had led to her presence as a judge at this year's World Cheese Awards.
One of the judges, Andy Swinscoe, the owner of the award-winning cheesemongers the Courtyard Dairy and a previous winner of the competition, said: "Lily showed real skill in cheesemongering; not only in technical ability but her passion for cheese produced in her region was evident.  She was a worthy winner. Across the board all of the entries were brilliant and it was exciting to see such high calibre of young people having a real passion for quality artisan cheese and where their produce comes from. The Academy of Cheese Courses have done a great job of inspiring the next generation of cheese champions and it showed."
Lily was awarded a series of prizes including a trophy; a ticket to the judges' dinner at the World Cheese Awards; an invitation to judge at the World Cheese Awards 2024; her choice of five Academy of Cheese Level Three certification modules; and a feature in Fine Food Digest magazine.
The Academy of Cheese said "We would like to thank Snowdonia Cheese for sponsoring the event; Hero Hirsh of Paxton & Whitfield, Andy Swinscoe from The Courtyard Dairy, Galina Danard of Partout Fromage and Keith Kendrick from BBC Good Food for their impartial judging skills; Svein-Erik Backlund of Oluf Lorentzen for helping with logistics before, during and after the event, Savencia Fromage & Dairy, Le Gruyere AOP, Oluf Lorentzen & The Fine Cheese Co. for providing the competition cheeses and finally to the Guild of Fine Food for providing the venue and vehicle to deliver the final competition".
Young Cheesemonger of the Year 2023 finalists – photo by  Haakon Borgen 
Galina Danard, Parisian cheesemonger, cheese educator & international judge said: "I think it's crucial to participate in these competitions, especially at the start of one's career. Comparing yourself to colleagues from different countries can help you understand where your strengths lie. At the same time, it is possible to identify areas for improvement. This knowledge is invaluable for those who aim to reach real heights in their profession".
You may also be interested in the following: Winners of the BBC Food and Farming Awards 2023, and  Championing Women in the Cheese Industry.
View all news