27/07/2022
Championing women in the cheese industry
It's a great time to be working in the UK cheese industry. Cheese blogger Steph Tod speaks with some of the women in the sector to find out how they adapted their practices during the COVID-19 pandemic and what the future of the industry looks like.
I set up my cheese blog, Queen Brie, during the pandemic. I'd been wanting to take the plunge for over a decade, but COVID-19 gave me the push I finally needed, as I wanted to use the platform to champion British cheese during lockdown and raise awareness of the experience of the people making and selling it. What has really inspired me is the innovative ways people came up with to champion their produce, moving their businesses online and selling locally. Not only were people doing all they could to save the existing industry, but others were brave enough to take on new careers in cheese and even create new cheeses during lockdown.
"We were fortunate that we got some great support early on," says Stacey Hedges, founder of the Hampshire Cheese Company. "One of our cheeses, Tunworth, featured as part of Jamie Oliver's Save British Cheese initiative. It meant that we didn't have to throw away any of our cheese during the pandemic – we were incredibly lucky."
Ruth Baker gave up a career in teaching during lockdown to buy the Yorkshire Fine Cheese Company. She found that more people were looking to shop locally during the pandemic, which was great for her business.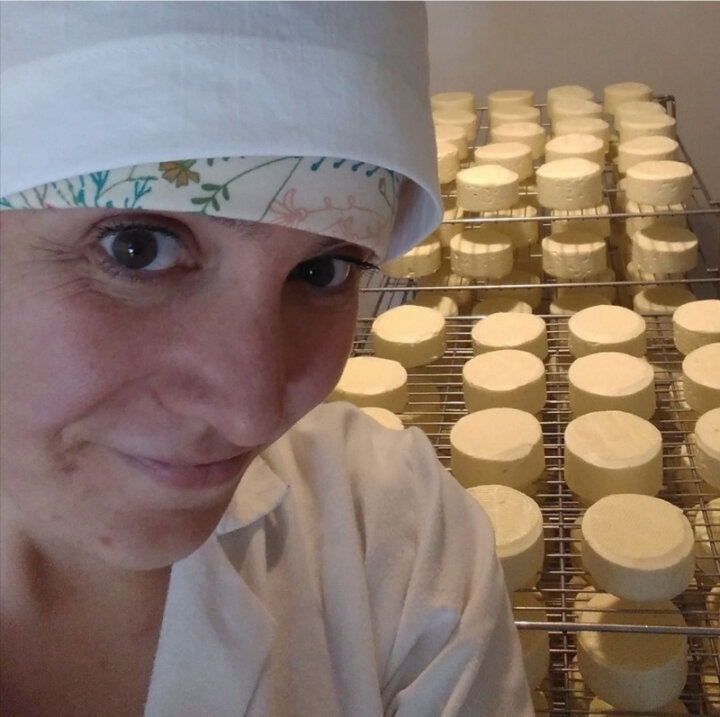 "My cheese mainly goes to farm shops and wholesalers. During lockdown, there was a real drive to support smaller, independent food shops and it's encouraging to see that is continuing."
For Emma Young, a cheese specialist and consultant, the pandemic was the catalyst she needed to set up on her own.
"My business actually started during COVID-19. I was looking to go freelance before the pandemic, but the timing wasn't right. When lockdown happened I realised that the timing might never be right. I started my cheese consultancy in summer 2020 and I haven't looked back."
Having an online presence during the pandemic has been so valuable for me to establish Queen Brie. It's allowed me to engage with a wider network of people and it's been great to create an online community of fellow cheese lovers. The impact of social media on the industry has also had a positive effect, and was a vital tool to engage with customers during lockdown.
"The way social media has exploded is really helping to get more people interested in artisan cheese," says Ruth. "It's a fantastic business platform and has really helped me as a small producer to expand my reach."
"During lockdown, I was able to connect to people around the world without the need to travel," says Emma. "I now have clients in Bermuda, Singapore and all over Europe, and more of my work can be done remotely. I have also been able to reach more people across the globe who have taken part in my online masterclasses."
For women interested in a career in cheese, the industry is a great option. There is a real sense of community and you can get some great support from fellow cheese producers.
"I've never felt uncomfortable as a woman working in the industry," says Stacey. "There are some very successful women in the profession, like Catherine Mead, owner of Lynher Dairies, who is the current Chair of the Specialist Cheesemaker's Association.
"I had lots of support from other people in the industry when I started out. It's very hard in the beginning to have that confidence to produce a cheese, sell it and keep the business going. But it's like anything, if you want to do it, throw yourself into it and don't be afraid to ask questions."
"From my experience, it's a fabulous industry for women," says Ruth. "You need to be open-minded and have a real willingness to learn, but there's a great network of people to support you."
"The best way to learn about cheese is to start tasting and selling it," says Emma. "Reach out to cheesemongers and cheese producers online. We are one of the friendliest industries for sharing knowledge and welcoming newcomers."
What does the future hold for British cheese? It seems that there is some fantastic expansion taking place across the sector and a greater interest from the public in artisan produce following the pandemic.
"We want more people to join the industry who are passionate, hardworking and will educate people about the importance of local and quality produce," says Stacey. "We're currently expanding our business with a new creamery, which will allow us to invite members of the public in to watch the cheesemaking process. I'm hoping this will help improve people's understanding of how interesting and important it is to know how their food is produced."
Emma says: "I have seen a large number of new cheese businesses opening over the past few years, many of whom I have trained through the Guild of Fine Food Retail Cheese classes, the Academy of Cheese courses and my own consultancy. COVID-19 was incredibly tough for the industry, so it's encouraging to hear about these success stories."
Ruth is looking forward to being able to finally meet her customers face-to-face: "I haven't been able to do any food shows yet because of the pandemic, so I'm looking forward to getting out and having people try my cheese in front of me – which is both exciting and terrifying. There seems to be a real appetite for smaller, locally-made produce. It's a really exciting time to be part of the independent food scene."
Steph Tod is the creator of cheese blog Queen Brie (www.queenbrie.co.uk). She is passionate about cheese making, championing the finest cheeses from the UK and beyond, and featuring cheese-based recipes.
View all news