22/03/2021
Interview with Shannon Johnson representing the Central region on Great British Menu 2021 – Women In the Food Industry
Great British Menu (GBM) returns to our screens on 24th March 2021 for series 16. The BBC Two show puts the nation's most talented chefs to the test. At Women in the Food Industry we are interviewing the strong female line-up of chefs from across Britain competing to serve their dish at the final banquet. To kick start the series, our co-founder, Mecca Ibrahim, interviewed Shannon Johnson Head Chef at Hicce in Coal's Drop Yard, London. Born in Lincolnshire, Shannon is representing the Central region.
How did you start working in the hospitality world and where did you train to be a chef?
I did three years at college studying catering and hospitality. For level 2 to level 3 I did a summer season in Scotland and worked at the Turnberry Hotel, which was the hotel Donald Trump bought. When I finished by training they offered me a job and I worked there for nearly three years. Had a great time there and met quite a few people who had worked in London, so thought I might go down there. When Trump took over, I could really only work there for a month when he was there. I left and started working for Angela Hartnett for about 3 years too. I wanted to see what London had to offer and worked with Diego Cardoso, who was the Head Chef at Murano before Pip Lacey. I worked with him for four years and went travelling for while. I got in touch with Pip when I came back to London and now work with her at Hicce.
What was your experience like of working with Angela Hartnett?
Angela is really good at getting to know her staff and is really strong with women and is a really nice person. I learnt a lot about pasta and Italian food and Mediterranean food too. I'm sure compared to all the Michelin starred places in London, Murano is one of the nicest places to work.
You're now working with Pip Lacey with another Michelin star, who also worked with Angela Hartnett – how different was the experience?
Angela likes to put her touch on all her restaurants, as she has a number of them. Whereas Pip is more experimental, doesn't have things set in a certain way and gives you the freedom to try new things.  Angela specialises in Italian food, so there is more room to cook different cuisines with Pip.
This is your first time on Great British Menu, how did you get onto the show and how did you prepare for the British innovation theme at GBM?
Pip was on the show and said, you should do Great British Menu. I said, don't be crazy. This was the year before Covid and April last year, I broke my ankle and was bed bound for months.  When I eventually came back to work, Pip said try it this year. I thought I might as well, if I don't do it now, when will I do it. It was something to look forward to as well.
To prepare for it, I didn't leave work for a solid month. I tried lots of different things. If it was good, Pip and I thought how can we make it better.  She had lots of stories to tell from her experience of being on the Christmas special, which was exciting, but also very nerve wracking. It was quite a stressful month before filming.
Which was the hardest course to prepare for?
The starter was the hardest one, as you really had to have a strong start. You know in previous years you got to cook your entire menu, but now knowing you can go after the fish course. So my starter was what I practiced the most.
GBM is very much know for its props, did you embrace the props on the show?
I did use some. When I went onto the show, I did look at some courses and think, how did you have the time and effort for those props. It was amazing the lengths, some people went to.  But if I was to do the show again, I would put more effort into the props.
In your round there are an equal number of men and women chefs, why do you think it's important?
I think the viewers want to see women in the show. Most years it's usually a man than wins and so people like to root for the women. It's good to see there are equal numbers of high quality chefs working in the regions.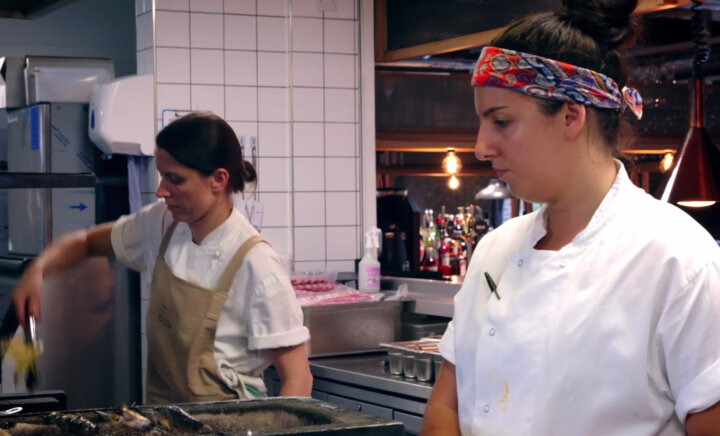 Which chef that you have worked with has given you the most inspiration?
Pip, as I have worked with her at Murano and I've always stayed in contact with her . Then I ran into her a few years later and work with her now. She really gave me lots of opportunities and support throughout my career. Also there have been chefs along the way that have encouraged me to try different things.
If you were marooned on a desert island, what was the one type of dish you could happily live on?
I would probably be pasta. I could live off pasta, although I don't eat it every day as it's a massive carb, I do love it.
Finally, what do you know now that you wish you could have told your younger self when you were starting out?
Maybe I would have told myself to start working in London, as it may have made my kind of career move a bit faster. I am doing well now and I did love Scotland, but when I was younger, I wasn't exactly sure what I wanted to do. But you do have to dabble in things before you find the thing that makes you happy.
Shannon will be appearing on Great British Menu from Wednesday 24th March 2021 representing the Central region.  Look out for more in our series of interviews with the great women chefs on Great British Menu 2021 soon.
View all news