01/06/2020
Interview with Emma Heal MD of Lucky Saint
During this time of lockdown, many of you will not be surprised to learn that our drinking habits have changed. What may be more surprising is that one in three people claim to be reducing what they drink! The low / no alcohol trend is clearly more than a trend. We spoke to Emma Heal, Partner and Managing Director of Lucky Saint – the low alcohol lager which is seeing a dramatic increase in sales.
How did you get into the food and drinks industry?
I cut my teeth as a buyer at Tesco: initially on the commercial graduate scheme.  I spent an invaluable year working first on the shop floor of a superstore for six months, and then into head office as a trainee buyer before being promoted.  I learned how to create destination categories, how to launch brands and the importance of understanding a product's value chain end to end.
I then jumped over the negotiation table and moved into account management when I joined innocent drinks in 2005.  It was still a start-up then and I looked after its biggest account at the time, Sainsbury's.  As the business scaled rapidly I grew with it, moving to Copenhagen as the Sales and Marketing Controller of Denmark where I lived for a few years whilst also launching the brand into Sweden. I've since consulted for many food and drink companies and worked across Africa for 3 years with Diageo launching innovation before joining Graze.
How did you find making the move from Graze to Lucky Saint?
It was a very natural one. I'd had a ball at Graze as the Managing Director of Retail, taking a DTC (Direct to consumer) business from clicks into bricks.  The growth was phenomenal, within 3 years we'd reached £50m retail sales and become the #1 healthy snack in the UK.  I left Graze when I had my second child, then gave myself nine months off to enjoy the girls and find the right start-up.  After meeting a lot of founders within health and wellbeing categories, I knew I wanted to join Lucky Saint when I saw how cutting edge the branding was, and then had my first sip of the 0.5% lager – it was outstanding.  I'd just had two children under the age of 3 and tasted most no/low drinks out there, having been pretty much booze free for 3 years, so I knew immediately we had a winner.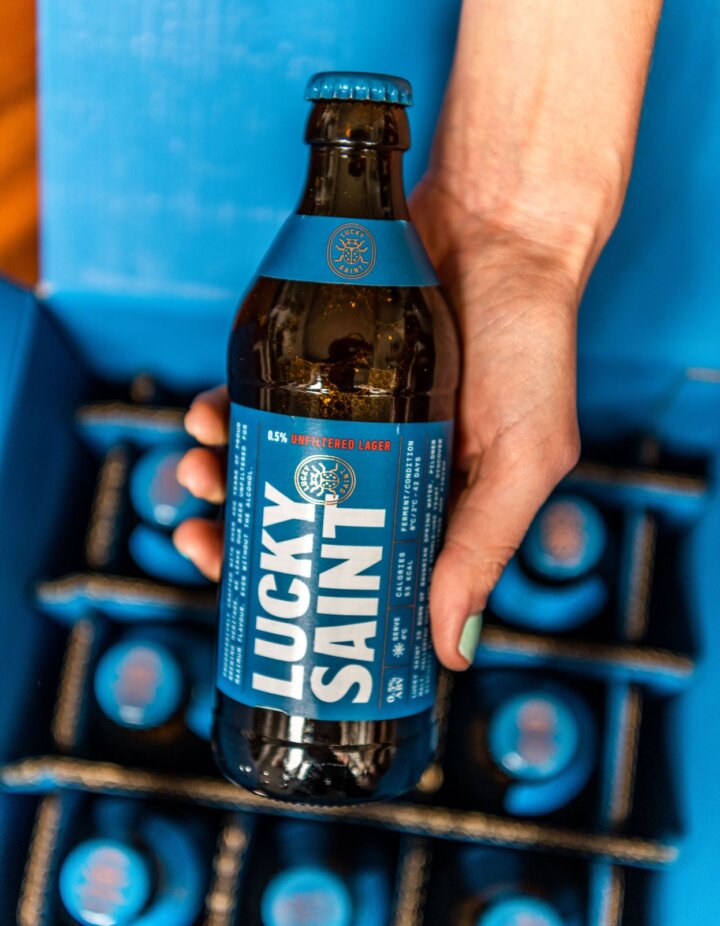 Where did the name Lucky Saint come from?
The Saint part of the name is playfully touted in virtuosity, i.e. the alcohol free nature of the beer.  The Lucky part was inspired by listening to many 'How I Built This' podcasts.  The host Guy Raz asks his guest entrepreneurs if they believe their success has been due to luck.  At Lucky Saint we have a spirited belief that we make our own luck.
What are the technicalities and skills involved in brewing a beer with low / no alcohol?
It's challenging to do it really well because, in the absence of alcohol, it's extremely hard to retain flavour and body within the beer.  The skills you need include the ability to be incredibly precise: when you have alcohol in your beer you can get away with a lot more as it masks imperfections.  Once you're working with no and low alcohol levels – it's like walking a tightrope, you have to be far, far more precise in the brewing process.
Is there a real trend towards low / no alcohol or is it just something that gets more publicity around Dry January?
You would think that, but year on year growth has been the same across all months in 2020, and not just across January when 5m pints of no/low beer were drunk.   What's exciting is you can track all age demographics, and they all have been moderating for the last 15 years. The growing interest in personal well-being and health during lockdown has seen 1 in 3 Brits actively cut back on their alcohol consumption, so the trend is here to stay and snow-balling. In March Nielsen reported a 33% increase year on year of no/low beer.
You've been seeing a rise in consumer sales during lockdown, was this a surprise and what are your thoughts on levels post lockdown?
We've been pleasantly surprised, sales on our website luckysaint.co are up 400% vs February.  I believe we are seeing a permanent change in at-home consumption across all consumer goods and there will be a lasting impact of socialising at home more.  As lock down eases, we all look forward to getting back into our favourite venues, but at-home consumption will be elevated and go back to a higher base than before.
There seems to be no end to the various craft beers on the market, do you think there will be a rise in more low alcohol craft beers?
Yes definitely, which is great as we need to build a destination category for no/low.  A major barrier to trial is because people tried a no/low beer years ago when there were only one or two brands, and were disappointed by the taste and experience.  So it's really exciting to see great liquids and brands coming to market to give consumers a credible range to choose from.  Many craft breweries focus on no/low pale ales and IPAs.  Luke spent over 2 years perfecting an incredible 0.5% unfiltered lager as he wanted to develop an alcohol free beer that had mass appeal, knowing 70% of all beer drunk in the UK is lager.
Who are some of the women you find most inspiring in the drinks industry?
I have the privilege to have met and worked with many brilliant women championing the no/low space.  Laura Willoughby OBE has created an incredible resource in Club Soda that aims to help people cut back on the hard stuff or quit if they want to with courses, a database of no/low drinks, a podcast and the Mindful Drinking festival. Camile Vidal has a beautiful website La Maison Wellness full of inspirational recipes, definitely check out her YouTube channel.  Also Emma McClarkin CEO of the prestigious BBPA, who welcomed Lucky Saint as it's first alcohol free member in it's 116 year history.  I'm also continuously inspired by founder Ellie Webb, who created of Caleño a delicious alcohol free spirit.  Ellie has masses of energy and her high standards and joie de vivre is completely woven into her brand.
What's the biggest thing that you know now, that you wish you could have told your younger self?
Pursue something you enjoy doing: it's so much easier to be successful if you're enjoying yourself.
Watch this space for more interviews with women in the drinks industry. In the meantime  you may be interested in our feature on the future of the drinks industry after our visit to Imbibe Live 2019. Plus our interview and podcast with Helena Nicklin award-winning wine and spirits writer and interview & podcast with  Gemma Colao Managing Director & Co-Founder of OTO CBD.
View all news