30/05/2023
Celebrating Migrateful: A Joyful Chef Migrant Initiative
As Refugee Week looms (19th-25th June 2023) Ambassador of Women In the Food Industry, Antonia Lloyd, takes us behind the scenes at award-winning charity and social enterprise Migrateful that supports asylum seekers, refugees and migrants in their journey to integration through cookery classes.
Founder Jess Thompson set up Migrateful in 2017 which had a brilliant and joyful idea at its heart: by training up refugees to lead cookery classes for paying public and private groups, they could share their traditional cuisine and take important steps towards independence and integration. Over the last 6 years, they have supported over 85 migrant chefs in more than 3000 classes sharing dishes from all over the world including Eritrea, Syria, Ghana, Jamaica, Venezuela, and China.
With so many delectable cuisines on offer and the prospect of supporting such a fantastic initiative, I signed up for a voluntary shift at the Migrateful Cookery School in central London to support Zeenat's Ghanian cookery class. Zeenat grew up in the western region of Ghana and also has Nigerian heritage.
She learnt to cook from her grand-parents, who were traders moving between Nigeria and Ghana selling clothes, rare foods and coffee, as well as her mother. She has been with Migrateful for around 3 years and clearly has cooking in her veins – she remarks on how she's always been keen to share her gift with people whether through teaching, group catering for Eid and Ramadan events, or even selling her own brand of shito sauce, a hot and spicy Ghanaian chilli sauce that will liven up the simplest bowl of rice.
Migrateful didn't teach Zeenat how to cook; through an initial 12-week training and 2-year mentoring process they helped her improve her public speaking skills, gave her the tools to demonstrate and deliver a cookery class with clear measurements, instructions and timings, and trained her up in food hygiene and health and safety.  It's clear that Zeenat is in her element sharing her food culture and her passion is infectious.
For my voluntary shift, it's a Friday night and everyone is relaxed and happily embracing the positivity emanating in the kitchen: west African music is on, Zeenat takes the group through the secret to her Efo Riro, a spinach and chicken stew with yam and plantain, and step by step they prepare in pairs at their work station while sipping a glass of wine. The fruits of their labour will be their dinner so everyone is encouraged to make it their own and add more or less garlic and scotch bonnet as their palate desires.
Near the end of the cooking class Zeenat produces a bowl of locust beans, a type of fermented soy bean from west Africa that add a strong umami hit to the final dish and everyone tastes, discusses and adds to suit their taste. The evening is rounded off with a shared meal where volunteers, chef and the group come together to eat their stew with generous helpings of Zeenat's specal spicy shito sauce (that many end up buying too) and talk to her further about Ghanian cuisine and culture. This is a wonderfully validating experience with wholly positive feedback about how tasty the dishes are.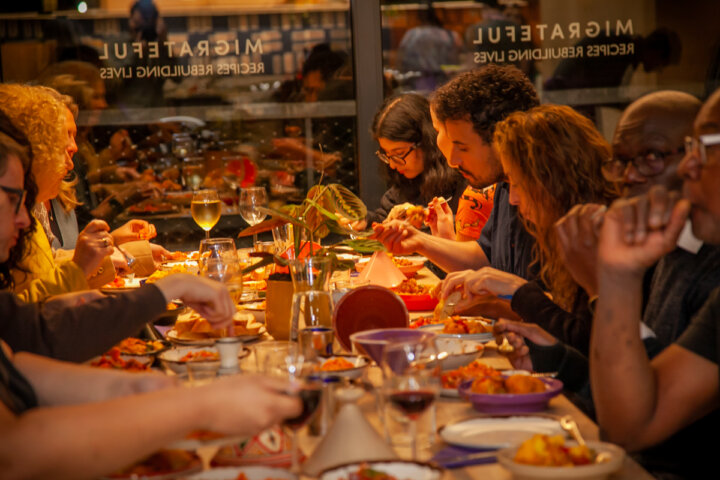 Migrateful isn't just a great premise, it's a smoothly run operation that is supporting individual migrant chefs and attempting to change negative perceptions around migration.  At its core it sets out to create connections in a community, a form of cultural exchange, that will hopefully help migrant chefs navigate the challenges of living in a new place. Founder Jess Thompson will host a Refugee Week panel, culinary and live music event on the 15th June, exploring important questions around rethinking the migrant crisis – it's clear that this transformative charity is so much more than an innovative cookery initiative.
If you're interested in a fun group bonding experience, supporting your company or community social responsibility goals, or simply fancy a good old Friday night social, check out the Migrateful classes in London, Bristol, Brighton and Kent
If  you would like to find out more about the  Migrateful Refugee Week event: How Connection Shifts Perception: Rethinking the Migrant "Crisis" visit the link.
View all news