16/05/2020
Good News Story: Women in food & design collaborate to support the NHS in Lewes
We were heartened to hear how women have been collaborating to help others during the Coronavirus pandemic. Elisa Furci of Caccia & Tails shared how she has been working with a number of women in the food industry and the design world to pool their skills to fundraise to help feed NHS staff in Lewes, East Sussex.

Photograph by Sarah Weal, part of her 'Furloughed Friendship' series.
Chloë Edwards of  Seven Sisters Spices  (a mail order spice kits & caterer) and I, Elisa Furci of Caccia & Tails the first focaccia bar in the UK, specialising in Focaccia Genovese had been discussing starting a project called the Lewes Food Cooperative since we took over the Lewes Octoberfeast festival last year. So with the help of graphic designer and Lewes resident Emma Carlow, our logo was created as a generous gift to help us get going.
We worked with Jacob Folio Todd from The Feature Kitchen (a takeout & delivery food service) to bring a new audience to the 10th year of the festival. However we were keen to start something the festival could sit under, along with a number of other events and purposes throughout the year.
When the Coronavirus crisis hit, we accelerated this plan and created in the first instance a listings for food businesses still operating during the crisis. We were also trying to create a delivery service where you could receive a delivery of food from across all these businesses in one go. Unfortunately this got more complicated as we would have had to risk breaking social distancing rules to achieve this. We do however plan to pick this up again as soon as we can and hope this will become a thriving revenue stream for all involved post Coronavirus Crisis.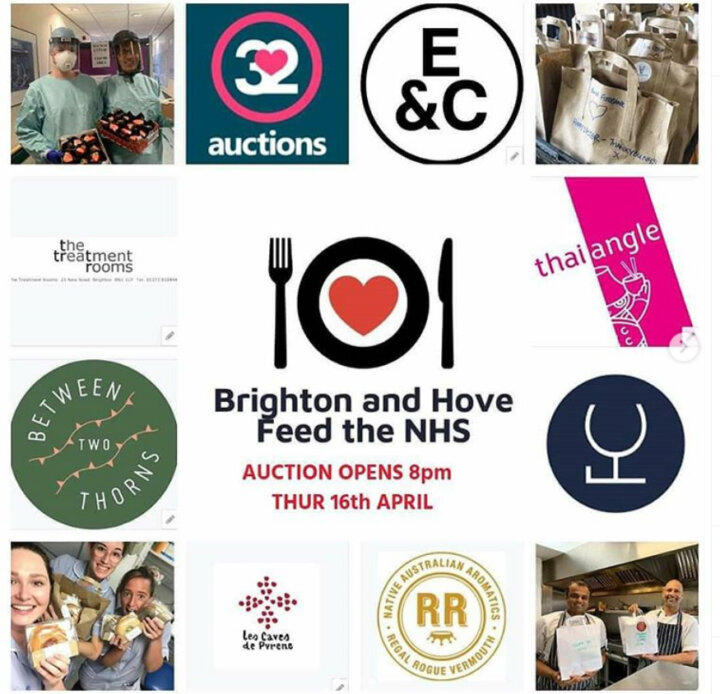 We then were passed details from a contact of mine, Olivia Reid from the Black Bird Box food & restaurant consultancy as well as chair at the Brighton Restaurant Association about a project to supply food for Sussex County Hospital in Brighton. Simon Livermore, a project manager based in Brighton created the Brighton & Hove Feed the NHS group, where he created a crowdfunding campaign which has currently raised over £16k. He invited food businesses all across Brighton to donate their time to create meals for the hospital staff.
Lewes Food Cooperative and in particular Chloë then took this and extended it fundraising and supplying the ICU staff at the Princess Royal Hospital in Haywards Heath. We are now feeding 20 staff, 7 days a week by a mixture of local Lewes food businesses and delivering daily with breakfast, lunch and dinner.
To begin with we were being funded by Brighton & Hove Feed the NHS group through their crowdfunding, however we have now raised and continue to raise enough funds to be self sufficient. This has been through a donate button on Seven Sisters Spices website, Hannah's coffee website, I have a link on Caccia and Tails and now two other local business women also  raise funds by doing online sales to donate 100% of their takings.
The first was Ellen Brookes, a British contemporary women's designer based in Lewes, and her company Sideline. Ellen posted a sample sale online and raised over £400. Secondly Anna Hayman of Anna Hayman Designs, a designer of wall coverings, fabrics and homewares has raised well over £1k through a print sale.
Chloë also founded Lewes Women in Business and has used this network as well as Lewes Food Coop to communicate our activities in the community, this has led to the remarkable support we are seeing now.
Look out for more good news stories as we cover how women are doing good with food during the lockdown and beyond. Be the first to hear by signing up to our newsletter.
View all news