08/06/2020
Will the two metre distance rule cripple hospitality businesses?
Would reducing social distancing requirements to one metre see more hospitality businesses survive the Covid-19 crisis and save "thousands of jobs"? We spoke to a number of prominent women in the food industry for their thoughts.
Calls have been made for the government to follow the World Health Organization's (WHO's) recommendation of one-metre distancing, rather than the two metres, with business leaders saying that for many it would make a huge difference to the survival of their businesses.
UKHospitality chief executive Kate Nicholls told The Caterer that jobs could be saved if the government adopted one-metre distancing rather than two currently prescribed by Public Health England.
She said: "It is vital that reopening is done in the right way and with continuing support so that our industry can help rebuild shattered consumer confidence, play our part in the recovery and bring the nation back together safely over the coming months."
Angela Malik is a leading global strategy and innovation consultant working with SME & blue-chip companies and an advisor and board member on the influential Mayor of London's Food Board.
She told us: "It makes sense to look at other countries who have implemented a one-metre distance coming out of lockdown ahead of us and learn from what they have experienced. From what I have read there have been no major spikes in infection from changing two metres to one metre. It certainly is the difference between survival and closure for many small pubs, restaurants and cafes. These businesses not only provide a living for families but are also vital for the vibrancy in local communities."
Chantelle Nicholson is chef patron at Tredwells in London's West End and Group Operations Director for Marcus Wareing Restaurants.  She shared a similar view on social distancing and told us:  "The 2 metre distancing rule will make it futile for many restaurants to open – it will not make financial sense to bear all of the costs associated with reopening when only a small capacity of diners can be accommodated and thus revenue generated. Yes, safety is paramount but the survival of the hospitality industry, and thus millions of jobs, is also a very important factor to consider."
Sally Abé, is Head Chef of The Harwood Arms, London's only Michelin starred pub and also echoed the difficulty of running a restaurant with a 2 metre distance rule in place.  She said: "The majority of hospitality businesses will not be able to operate with a 2m distance rule. Even if the tables were 2m apart is it then fair to expect the staff to have to come within the 2m distance to serve the customers? Putting people so far apart really rips the heart out of what a restaurant tries to do – create warmth, friendliness and atmosphere. Even a 1m distance will still mean places, especially pubs struggle to make up the covers enough to cover their costs sufficiently".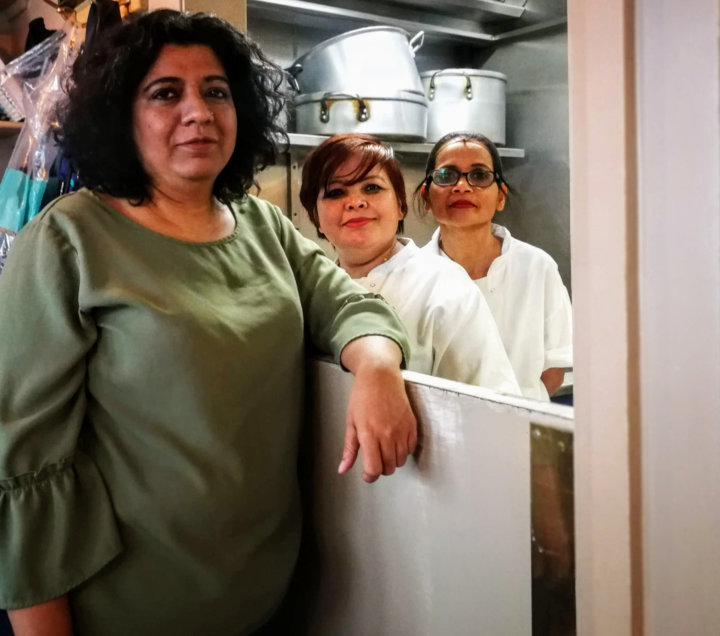 Asma Khan Founder of Darjeeling Express and the 1st British Chef to feature on Netflix Chef's Table shared similar views on the atmosphere that is created within a restaurant.  She gave this message to her diners: "I want them to know that I will not rush and open for financial reasons. I want the experience to be meaningful for them and for my team. We will only begin service when we are all emotionally and physically ready to provide a great dining experience for our customers".
Dr Beatriz Rodriguez Garcia is a Teaching Fellow at Lancaster University and said "This is going to be a very important challenge for the hospitality sector and one that will become hard to implement, mainly in smaller businesses. If the guidance changes to a 1-metre separation, as many travel and hospitality company bosses are requesting from the government, then the hospitality sector would have a much better chance of recovering from this crisis.  If the 1-metre rule was to be implemented,  hospitality businesses should be able to have more clients and staff in their premises at any given time and this, in turn, might result in a quicker financial recovery".
UKHospitality has unveiled secure guidelines for hospitality businesses, which it is proposing to Government to help the industry reopen. In its Fair4Hospitality Campaign there is a strong  awareness that hospitality is a truly diverse sector which needs flexibility to operate safely.
Recently there has been some discussion in the cabinet about some restaurants and pubs being able to open outdoors on the 22nd June rather than the 4th July date mentioned by the Government.  Kate Nicholls of UK Hospitality called for this uncertainty to end and said "We need a booking from date for our hotels, we need to give notice to our teams to end furlough and we need to restart our supply chains. Costs are about to be incurred so we need date, details and plan confirmed".
View all news