23/07/2023
Modern South Asian Kitchen: Recipes and Stories Celebrating Culture and Community by Sabrina Gidda – Debut Cookbook
Our friend and long time supporter, Sabrina Gidda's debut coookbook Modern South Asian Kitchen was published by Quadrille Books in March 2023.
In the book, we see the merging of Sabrina's professional career in modern European kitchens unite with her Punjabi heritage, culminating in 90 unique and stunning recipes that are comforting, playful and big on flavour.  She offers snacks and small plates for entertaining, quick and light dishes for midweek meals and stunning recipes for feasting with friends – encouraging readers to not be fearful of their spice cupboards. In her words, she is "creating new traditions as well as honouring old".
What we loved about this book was that it features conversations with eight of her 'sisters' from South Asian heritage, who are also connecting with their history whilst breaking cultural and culinary boundaries. Modern South Asian Kitchen is a joyful celebration of how cooking brings together communities, families and friends.
Sabrina said "This is Modern South Asian Kitchen. It's playful it's vibrant, it's super fun. This is me reaching into the flavour of my culture which I'm totally mad for and spinning it with some of the modern techniques that I've cooked professionally. Along with my own story I have eight conversations with amazing South Asian women, up and down the country, who are sharing all of the incredible things they are doing in the kitchen. Running their own supper clubs and cookery courses".
"I really love Lindi pepper. It  has an amazing floral spice and when you pair this with a malai-style yoghurt-marinated poussin it makes a knockout dish. Barbecued little spicy chickens can only be a good idea. If you want to roast them in the oven, though, you absolutely can. Marinating them for two days helps to really impart the flavour, but if you want to do this a few hours before, of course you can. Equally you can use boneless chicken breasts for a much faster supper." She said of Lindi Pepper Poussin pictured above from her dinner at Westminster Kingsway College.
"It's the type of food that you are going to love to cook for your friends, your family and your loved ones. And I just want you to have fun. That's absolutely what this book's about. Fall in love with your spice cupboard. Have a good old time, and cook something totally delicious and then  keep cooking from it."
Sabrina experienced the loss of her mother whilst writing the cookbook and dedicates it to her Punjabi heritage. She said: "It is dedicated to my late mother Sukey, who was an absolute Queen in the kitchen."  She pays homage to her mother's most iconic dishes along with personal tributes to dishes her grandmother made.
At the Westminster Kingsway College fundraising dinner to raise funds for her mother, Sabrina made her mother's trifle, pictured above.
"Sukey Gidda is the Queen of My World. And here we have perhaps her most iconic dish trifle. Now of course you are welcome, most welcome, to make your own sponge, make homemade jelly, custard from scratch. But, frankly my mother believed the best part of trifle making was the eating and in turn I feel exactly the same. She always had a giggle when it came to soaking the sponges – usually because of the very generous free-pout of Malibu, followed closely by "and one for luck". This is about enjoyment, nostalgia, love and celebration – and I will always make this for my family to celebrate her in all of her glory."
"Like the book says we are honouring old traditions as well as creating new. I can't wait to see what you cook"
Here's what fellow chefs have said about Sabrina's book Modern South Asian Kitchen:
"Sabrina's modern take on traditional South Asian dishes and the stories behind them makes an entertaining and tempting book!" – Michel Roux Jr
"Sabrina is the real deal… The delicious flavour combinations, fun playfulness of classic dishes and a genuine love for storytelling and recipe writing makes this a must for any bookshelf." – Ravneet Gill
"Sabrina has produced the most colourful, exciting book I've seen in a long time, coming from the heart. Each recipe is packed with love and vibrancy, and I can't wait to cook from it." – José Pizarro
Sabrina believes that flavor and enjoyment are imperative–and offers snacks and small plates for entertaining, quick and light meals for midweek meals and encourages the mixing and matching of recipes for feasting and friends–teaching us not to be fearful of our spice cupboard. From the Only Dal You'll Ever Need and Cauliflower Cheese Parathas to Punjabi Panzanella and Black Cardamom Custard Tart, these are ingenious, considerately spiced recipes you won't have seen before.
Sabrina has appeared on BBC's Great British Menu on numerous occasions in addition to, Celebrity Masterchef, Saturday Kitchen, Back in Time for Dinner, Snackmasters, Saturday James Martin and Sunday Brunch. Her recipes have featured in GQ, The Mayfair Times, The Sunday Times and Olive Magazine. She champions women in food, drink and hospitality with an eclectic, global approach to cooking.
She has the following advice to women starting in the industry which she wishes she had known when starting out: "In a nutshell it would be "Yes you can". Because in the early days of being untrained, and wondering if I could ever do what I'd always dreamt of doing, I did wonder if I would ever get to do it. The unwavering ambition and hard work kicked in and then I realised that as long as that happened, then yes I could do it.  So to worry a bit less and then yes, you can do it."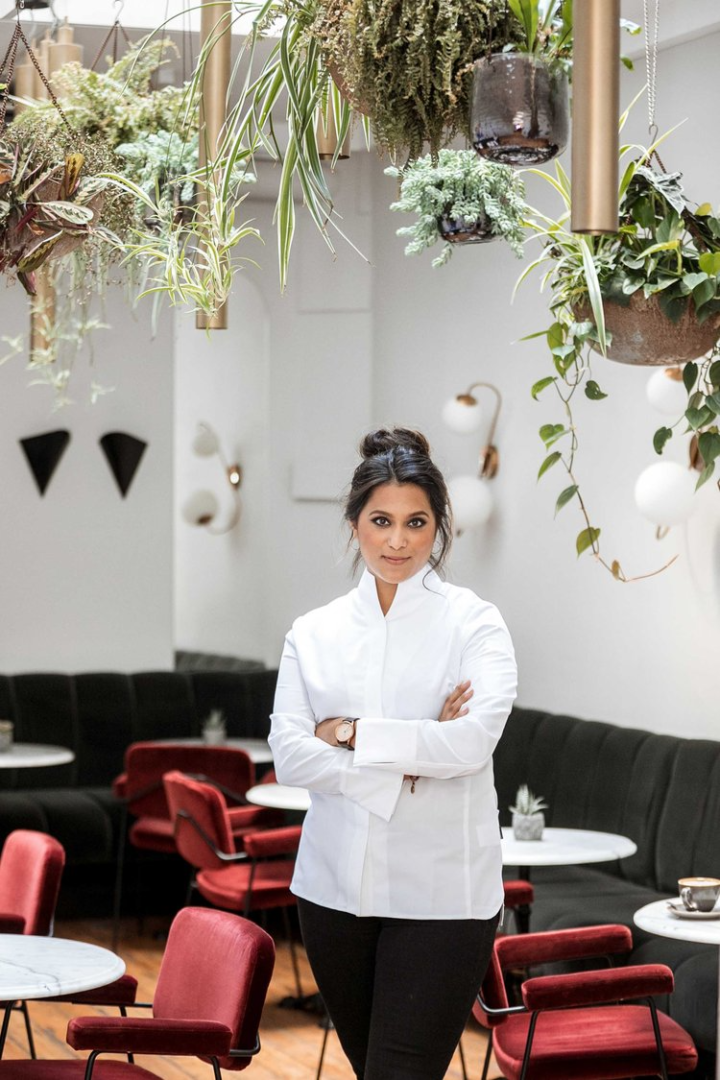 Modern South Asian Kitchen is published by Quadrille Books and can be purchased from their website. It's also available to buy from Waterstones and Amazon.
View all news