31/07/2019
Meet the Ceramicists – 3 Innovative Ceramic Artists to Watch
We eat as much with our eyes as our taste buds. As well as marvelling the colours and textures of a well presented dish of food,  the plate the food is served on can make a big difference to our enjoyment of a meal. We caught up with three talented ceramicists are have created dishes for the up-coming OpenKitchen dinner on August 21st.  Meet Lucia Ocejo, Bisila Noha and Capucine Giraud.
Lucia Ocejo is a sculptor from Mexico City who studied her art in Boston. She has a great connection with food and found herself getting more drawn to pottery and tableware when she moved to London in November 2018. She said:  "I first worked with a Mexican chef who was opening a restaurant in December and I did around 250 pieces for him.  My next project was working for a new restaurant in Portobello Road called Gold which was 450 pieces, that was a huge project to complete on time. Working with James Haywood on Open Kitchen after that was a delight as he's so easy going and very forgiving when things don't go quite to plan, always  ready to find solutions which doesn't put you under so much pressure. "
"Although it wasn't such a large scale project the piece James asked me to make was definitely the hardest piece I had to make. It's because of the flange – the frame around the dessert plate – which is very wide. Out of all the plates, this was one of the most challenging."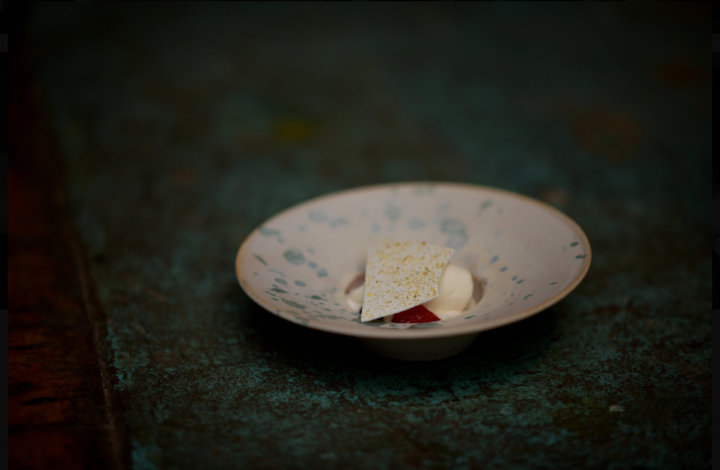 We wondered how long it took for beautiful plates like this to be crafted. "When I first started making tableware and plates I was probably throwing on the wheel about six pieces in an hour. Right now that has incredibly increased and if I really push myself I can throw about 20 pieces in an hour.  You have to wait for them to dry out and trim of the excess clay. That takes about 24 hours or longer depending on the weather. They then spend another 24 hours in the the first kiln which is about 1,000 degrees. You then glaze them, put them into the kiln again. Just to get type of plate through it will take about a week. I  get quite upset when people are prepared to spend £14 on a burger but they wouldn't spend that on a plate!"
Lucia is now working on a lot of ceramic designs now and loves working on tableware as she is able to collaborate with other potters when she meets them at dinners.  She met both Capucine Giraud and Bisila Noha that way and is now collaborating with Capucine on another project.
You can follow Lucia's work on her instagram page @lu.ocejo
Bisila Noha is also based in London and says "I love projects that push me to improve my skills and research, not only when it comes to clay and pottery, but also to culture, history, traditions and the way we look at ceramics and art in general"
Through this curiosity she has been able to create this mix of art and practicality you see in the designs below. However as an artist she is very keen to help others. She said  "My aim as a maker is to use my skills to make our world a better place. That is why I also run workshops with the arts and education organisation Lon-art, and Create – the UK's leading charity empowering lives through the creative arts".
She also teaches regularly at Turning Earth and Crowns Works Pottery.
You can follow Bisilia on Instagram here – @bisilanoha.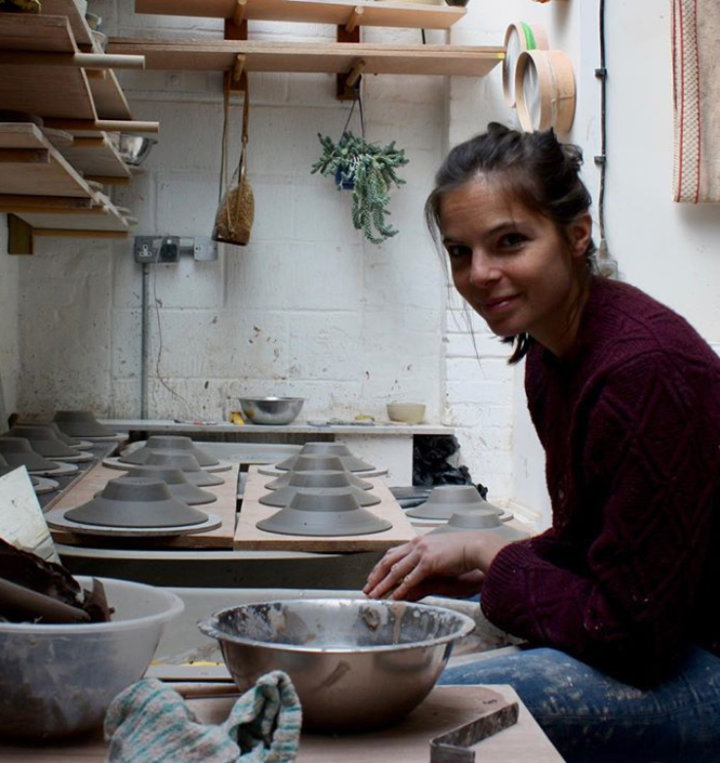 Finally we turn to the work of Capucine Giraud of Inoui Studio who worked from an East London studio but is moving to Paris this summer. Capucine shares Lucia's thoughts on the time involved in creating plates. She says "Ceramics is a traditional craft that can't be rushed. Each of my pieces are 100% handmade and require several hours of work."
"Mixing colours can create amazing shades, even if it can be a bit of a lottery sometimes as the glaze only takes its definitive colour during the second firing! Each piece is finally fired a second time to make them durable and microwave and dishwasher safe.​"
Hand making plates means that no two pieces are the same. Capucine added "It gives each piece their own unique character and charm. I have a  personal connection with each through their creation."
Capucine made the plates below for Warren Smith's sea bream dish in the last OpenKitchen where many guests commented on what a great touch the different plates were.  You can follow Capucine on Instagram on @inoui.studio
You can see Lucia, Bisilia and Capucine's tableware at the next OpenKitchen London. Tickets for the 22nd August dinner have already sold out but there are still a few available for the evening of 21st August. Discover how to book here.  
View all news