18/02/2023
Interview with Caroline Martins representing the North West region on Great British Menu 2023 – Women In the Food Industry
Great British Menu (GBM) returned to our screens in January 2023 for series 18. The BBC Two show puts the nation's most talented chefs to the test. At Women in the Food Industry we are interviewing the strong female line-up of chefs from across Britain competing to serve their dish at the final banquet. To continue our series, our co-founder, Mecca Ibrahim, interviewed Caroline Martins who runs her pop-up Sao Paulo Project showcasing fine dining Brazilian/British fusion cuisine. She also owns a more casual concept: SAMPA.
How did you start working in the food world and where did you train to be a chef?
I was in academia in my  twenties and I got my Masters and PhD in physics back in Brazil. The last stage going up that academia ladder was to take a post doctorate degree. So I moved to the US and was working as a researcher in the University of Texas in Austin. I wasn't feeling that happy and fulfilled. I couldn't wait for the clock to get to 6pm when I would go home to cook for my friends.
I realised that food was what I really loved and that I should train to be a professional chef. I returned to Brazil and applied to go on MasterChef there. I fell in  love with everything about it. I didn't win the prize, but I made a decision to use my life savings and go to Le Cordon Bleu in London.
That's when I fell in love with the UK, the restaurants, the hospitality, everything. I ended up staying and working in different restaurants. I also went to Italy and trained under some Michelin starred chefs there. I didn't do pastry when I was at Le Cordon Bleu, so it was amazing to do pastry there.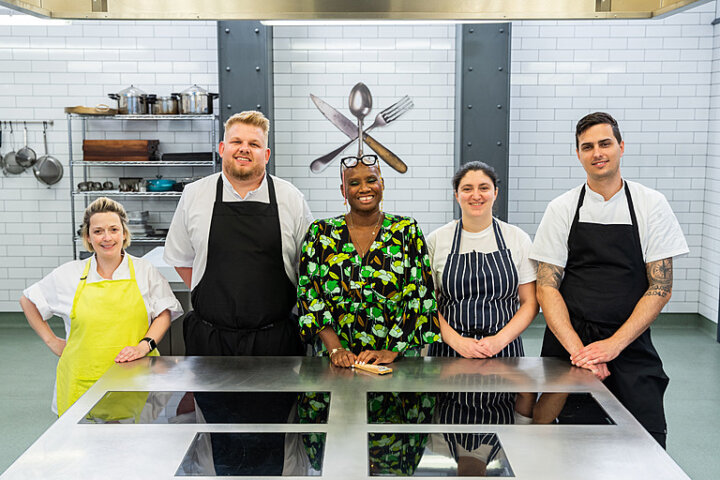 This is your second time on Great British Menu, how did you get onto Great British Menu?
I was in London trying to open a restaurant, but it's very expensive. So I ended up moving to Manchester. I heard that everyone helped each other there and was so friendly.
I thought I would do pop ups with my idea of what Brazilian food is and mould it into a fine dining experience for my guests. I did them in wine bars and breweries and coffee. One of the producers of the show came to one of my pop ups and really liked my food, and thought it was very interesting and different. I do Brazilian and British fusion and there's nothing else like it in the country.
After last year being on the show they asked me to come on again in terms of ingredients and what I was doing.
How did you prepare for the animation theme at GBM?
It was collection of connections with things I already knew. For example Pingu, plays all over the world , I grew up watching Pingu in Brazil. My husband has a nephew who loves Postman Pat. I tried to collect all sorts of animations that I have connections with. I got really inspired and had so much fun with the brief.
With this being your second time on the show, did you find it different and if so how?
I felt like I was more prepared, because I knew the kitchen, I knew Andi Oliver. I knew how things were programmed.
Which was the hardest course to prepare for?
I thought it was the dessert for me because they have so many elements. They need to set, they need to defrost. Because it's a competition we don't have a lot of time. You don't have a lot of time to experiment. The dessert was hard last year and it was the same again this year.
GBM is very much known for its props, did you embrace the props on the show?
Ah yes totally I went crazy. I have a Mini and my husband came down with me in my packed Mini. I think I had the most props on the show. I had so much fun. I had local artists in Manchester who produced my props. I had so much fun with them.
Image by Jane Walton

Which chef that you have worked with has given you the most inspiration?
I would say Thomas Kostner, from Trenkerstube in the 5 star Hotel Castel. It is in the middle of The Alps, South Tyrol,  Italy. He is so creative.  He taught me how to make great desserts with no moulds and he's definitely my inspiration. I applied a lot of his teaching to my dishes.
If you were marooned on a desert island, what was the one type of dish you could happily live on?
I do love a chip buttie. Here in Manchester you find all sorts of gourmet versions of it with different sauces. I could eat them all day long. I love them.
Finally, what do you know now that you wish you could have told your younger self when you were starting out?
I guess the main thing is to stand up for myself. Because hospitality a male dominated industry, you do need to work sometimes harder than the men to get the same recognition. I wish I aware of that before I started my journey. It was quite a shock for me. I thought Jesus why do I need to do so many hours to get promoted, whereas this guy doesn't.  When it comes to coming up with dishes my ideas were usually blocked. I would say to myself as a girl that I should step up more and say "Try my dish I put so much effort into that." or "When is my promotion, I have been working really hard."
Caroline will be appearing on Great British Menu from Tuesday 21st February 2023 representing the North West region.  Look out for more in our series of interviews with the great women chefs on Great British Menu 2023.
View all news