04/02/2022
Interview with Caroline Martins representing the North West region on Great British Menu 2022 – Women In the Food Industry
Great British Menu (GBM) returned to our screens on 1st February 2022 for series 17. The BBC Two show puts the nation's most talented chefs to the test. At Women in the Food Industry we are interviewing the strong female line-up of chefs from across Britain competing to serve their dish at the final banquet. To continue our series, our co-founder, Mecca Ibrahim, interviewed Caroline Martins who runs her pop-up Sao Paulo Project showcasing fine dining Brazilian/British fusion cuisine.
How did you start working in the hospitality world and where did you train to be a chef?
During my twenties I was working as a plasma physicist. I went to grad school and I got my Masters and PhD. Then I went to Austin in Texas as a researcher. I always loved cooking as a kid, and when I was working in Texas, I couldn't wait to go home to cook for my friends. I'd be planning tasty things to cook them. After two years I realised that food was what I really loved and that I should follow my dreams.
I went back to Brazil. I was barbecuing with my friends and one of them said that I should apply to go on MasterChef Brazil. So I did. They were interested in my ideas and my background story and I got accepted. It was fun. I didn't win the top prize of studying at Le Cordon Bleu. But from that experience and fortunately I had some savings, so I moved to London and paid for myself to study at Le Cordon Bleu.
I had one small suitcase and lived out of that for six months. I did an intensive course of what would normally be two years in six months. I started at 7am and finished at 11pm to get all of the condensed training.  My life was just being at school but I loved it.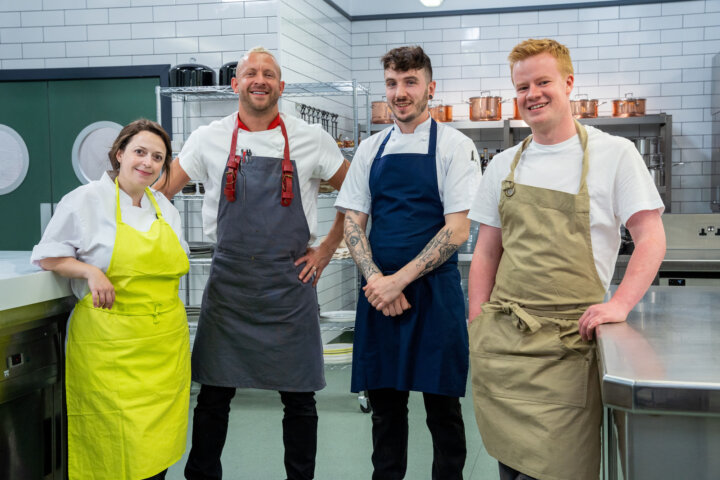 This is your first time on Great British Menu, how did you get onto Great British Menu?
I was working in London for some years after studying. I spotted a gap in the market. If you want to eat Brazilian food there were no Brazilian restaurants in London. There are steak houses, but not what real Brazilian food is. I thought I would do pop ups with my idea of what Brazilian food is and mould it into a fine dining experience for my guest.
Then I realised London was too big, I wanted to work somewhere smaller that is more condensed that I could network in. Talking to investors, they also said Caroline, you're in the wrong place, you should move to Manchester as that's where your demographics are.  I moved to Manchester two years ago, just before lockdown. All my plans for my Sao Paulo Project to take over and meet people. No – it didn't happen, everything shut down. I had to find a way of getting by day by day, which everyone working in hospitality had.
After lockdown started doing my pop ups again and I did residencies in different wine bars.  What I was was doing attracted a lot of attention, particularly on Instagram. I tried to make my dishes look very colourful as that's what Brazil is about. I gained a lot of followers both on my account and the Sao Paulo Project account. That's when one of the producers of Great British Menu spotted me and got in touch.
How did you prepare for the broadcasting theme at GBM?
I was so excited when I heard the theme. I grew up watching British shows. All the comedies you had here we had in Brazil. Especially after 11pm, that's when you had the British shows running on loop. Monty Python ran on loop.  When I first moved to the UK in order to familiarise myself with different accents and train my ears, I started watching a lot of different shows, like Red Dwarf. So I prepared by using everything I watched, I didn't use a lot of radio, but TV was the basis of my dishes.
How did you find it working under the cameras, was it similar to MasterChef Brazil?
When I did the Brazilian MasterChef, I was there kind of for fun. I wasn't on the professional version. So with GBM you are set in a professional environment. You need to follow a mise-en-place list. When you're in your own kitchen obviously you don't have anyone talking to you and interviewing you. So that was the trickiest part for me.  Trying to get my head down but yet still explaining what I was doing every step of the way.
Which was the hardest course to prepare for?
The fish course. I had this beautiful image in my head and I wanted to showcase a lot of different techniques. I wanted to really put across my food philosophy, but shape that in a way to fit the briefing. I definitely found this hardest with fish.
GBM is very much known for its props, did you embrace the props on the show?
Ah yes totally I went wild. I had crockery commissioned by local artists in Manchester. I spent a lot of money and lot of time and enthusiasm putting the props together.  But I had so much fun doing this.
Which chef that you have worked with has given you the most inspiration?
Right after Le Cordon Bleu I wanted to learn pastry and also wanted to learn Italian. So I got the Michelin Guide in Italy and sent all of the chefs emails and offered to work for them for six months for room and board,  to get experience. Five of them emailed me back saying yes. I picked a place in the middle of The Alps, South Tyrol, a beautiful and stunning place.
But when I got there, funnily enough everyone spoke German as it used to belong to the Austria Hungarian empire.  I spent six months learning so much there. I was in a restaurant called Trenkerstube in the 5 star Hotel Castel. The pastry chef there, Thomas Kostner, is a genius. He was working there for 10 years. He makes these illusion desserts, chocolate sculptures and amazing sugar work.  He taught me how to make great desserts with no moulds and he's definitely my inspiration.
If you were marooned on a desert island, what was the one type of dish you could happily live on?
I can't say wine can I? It needs to be meat, I can't live without my steak.
Finally, what do you know now that you wish you could have told your younger self when you were starting out?
I wish I could go back and tell myself to stand up for myself more in kitchens. It's a male dominated industry. When you start they tend to put you in the pastry section because you are a women. I wish I had said, why I am here, I can do the same as male chefs and shouldn't be in pastry for so long. I wish I had stood up to bullies more and spoken out and called people out. But now I know and I say – stop, this isn't right.
Caroline will be appearing on Great British Menu from Tuesday 8th February 2022 representing the North West region.  Look out for more in our series of interviews with the great women chefs on Great British Menu 2022 soon.
View all news