30/03/2022
Exclusive Cookaway Offer from 2019 Masterchef Champion Irini Tzortzoglou
We are enormously proud and humbled to have Irini Tzortzoglou 2019 Masterchef Champion as one of our Ambassadors.  She is a very busy woman but she took the time to share with us some of our latest news.
Hoping to inspire both old and young to try Greek meals Irini has collaborated with recipe box company The Cookaway for the launch of Greek cuisine in their chef led, international food offering.
Irini was born in a small village on the island of Crete and her early memories are of the scarcity of luxuries but the abundance of fresh, home-cooked food. Treats were rare and usually home-made.
Use the code WITFI15
Valid only once and until 31.8.2022
Book now and use your discount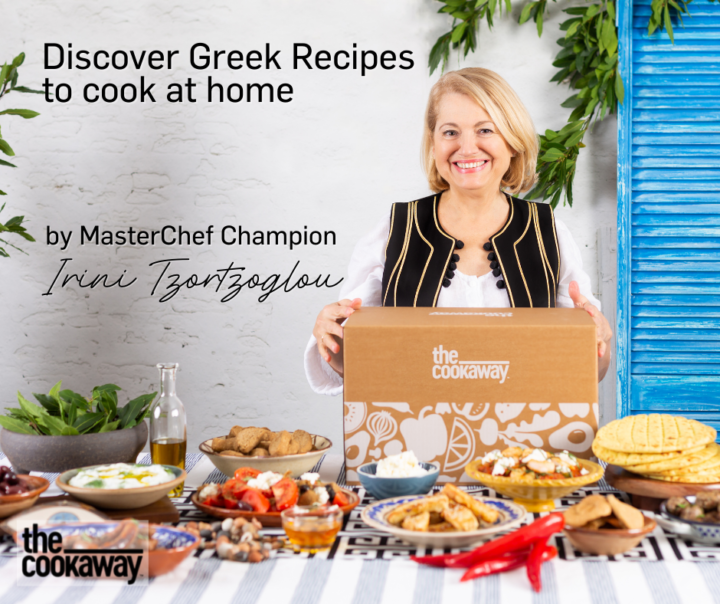 The Greek Cookaway menus will offer first-of-its-kind access to Irini's uniquely crafted Mediterranean dishes via recipe boxes and live virtual cookalong experiences – allowing UK foodies to experience new flavours and explore Greek culture, all whilst cooking from home.
The Cookaway is the UK's first, no-subscription and chef-led recipe box service on a mission to bring joy into cooking. The Cookaway offers authentic world food recipes, designed by chefs who are passionate about sharing the unique heritage, influences, ingredients and flavours of their food.
Irini's new recipe boxes include a versatile range of dishes that work brilliantly whatever the occasion. Whether you're looking for a show-stopping Lamb Kleftiko centrepiece for Easter Celebrations, a Greek street food favourite Souvlaki that's simple to prepare for a unique twist on summer BBQ dining, the ideal Greek Meze sharing dishes to cater for food-loving friends on a Friday night or the effortlessly-impressive Prawn or Aubergine Kritharoto dish for a mid-week treat, The Cookaway offers the perfect menu with the option of adding expertly matched sides, desserts and drinks to make any occasion extra-special.
The recipe boxes contain every ingredient you will need and recipe instructions on how to recreate delicious Greek dishes in your own kitchen.
Available to pre-order now and delivered from 2nd April.
No Subscription – Free National Delivery – Free weekday and 48hr delivery options are available.
View all news