11/08/2023
The Barbican's Eat The Screen Season : Films to Feed Conversations About Food – Review
If you're interested in food, and love movies, film and cinema you must go to The Barbican's new Eat The Screen season before it closes on August 24 2023.  Our co-founder, Mecca Ibrahim, went along to one of the films The Gleaners & I by Agnes Varda (pictured below) on 9th August. It was one of a hand-picked selection of short films, features and documentaries curated by Tamara Anderson, which made up the fascinating season looking at important conversations around food sovereignty, meat consumption, farming, food waste, and the power of supermarkets.
Tamara Anderson, Barbican Cinema curator, said "I was curious to discover what I would find at the intersection of my two big interests: film and food,'  said, Tamara, who has assembled "a delicious smorgasbord of films that hit the sweet spot in the Venn diagram of her passions".
"There are quite a few food film festivals out there, but the films they show – feature films about food and eating, or documentary profiles of star chefs – don't appeal to me. I'm interested in films that answer a basic curiosity about food cultures from elsewhere, and above all, in films that engage with certain questions facing us all as citizens and consumers – for instance, food sovereignty, food waste, the power of big supermarkets, and whether, or not, to eat meat.'
"Curating this season has taken me on a nourishing tour of the world, celebrating the joy of food and eating, whilst feeding a general curiosity on the subject. If there is one thing clear, it is that food – and everything around it – makes for a deeply complex subject, and no one solution fits all. This season presents a kind of constellation of ideas about what food is, or means: a cultural inheritance, craft, a job, a path out of the lowest rungs of society to a more stable future. I'm proud and excited to bring this season to audiences, and I look forward to the many conversations it is bound to elicit."
In the insightful, funny and eye-opening film Gleaners and I, Agnes Varda interviews an array of foragers, freegans and activists all upholding the ancient French tradition of "gleaning".
Criss-crossing France, Belgian film-maker Agnes Varda meets people on both sides of the food waste equation: the farmers and winemakers, facing their own pressures, who leave a portion of their crops to rot in the fields, and many others who scout for leftovers, whether out of necessity, custom, or a refusal to participate in our contemporary systems of food production and consumption.
In the film Varda uncovers the inequalities in French society, and the practices that some farmers and big supermarkets use to ensure surplus food does not go to those in need of it. However the film is not at all preachy or dry.  It is a film interested in people, and in the creativity and  resourcefulness of those scavenging, salvaging and collecting.
The Gleaners & I was introduced by Tamara and also by Phil Holtam, Sussex gleaning coordinator for Feedback, who co-ordinates the UK's Gleaning Network.
Phil explained how much "gleaning" takes place on farms in the UK. He told us about a report from WWF and Tesco which showed that 3 million tonnes of food is wasted on UK farms annually as it is not "perfect" enough for wholesalers or supermarket shelves.  "WWF and Tesco are calling for mandatory reporting of on-farm food waste, specifically for medium and large farm businesses, to establish the full scale of the problem and to make it possible to track – and accelerate – reductions in years to come, by informing policy decisions to ensure they support farmers to drive down waste".
Feedback is one of the food charities and  supermarkets including Waitrose and Tesco who have criticised the Government for recently ditching plans to make reporting food waste statistics mandatory as No 10 is accused of backsliding on the environment.
A recent report from The Independent said  "Groups called the move "disheartening" and a "setback" for combatting food waste – a harmful greenhouse gas emitter when it breaks down at landfill sites.
It comes amid growing divisions within the Tory party over Prime Minister Rishi Sunak's retreat from green policies after he announced on Monday (July 31st 2023) that his Government will grant hundreds of new licences for oil and gas drilling in the North Sea."
Without getting too depressed about this Phil urged us all to sign a petition to get this decision reversed and to continues with their original plan of making food waste reporting mandatory.
Phil had also left a huge bag of turnips in the cinema reception which he had picked from a recent gleaning exercise. The turnips couldn't be sold to restaurants because the leaves (which wouldn't be eaten anyway – had some insect damage on them!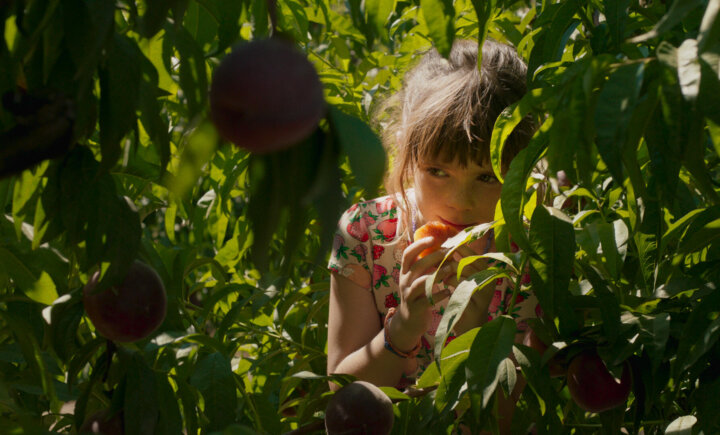 The next film in the Eat The Screen season is Alcarras on 16th August at 6.25pm and there is a free Senior Community  screening on 21st August at 11.45am.
Based in the director, Carla Simon's own experience growing up on a peach farm, but spiralling out into fiction, this complex, sensitive film considers the pressures of market forces on a family farm.
For three generations, the Solé family have been growing peaches in the Catalan village of Alcarràs. They are getting ready for harvest when their landlord announces he's decided to grub up their orchards, and replace them with fields of solar panels. Jordi, dad of the family, is told he can retrain as a solar panel engineer, he'll make more money that way.
Alcarras follows the various fractures that open up in the family as the news sinks in, and with all the other pressures of a farming life piling up: will the crop fail, will the rabbits eat it all, and will the supermarkets pay a decent price?
Eat the Screen is at the Barbican Cinemas until 24th August 2023.
If you're interested in the future of food and the sustainability issues around it, we ran the following  events led by inspiring women in the food industry & have recapped what took place at them:  Sustainable Food Futures  &  Sustainable Gastronomy Day supper & panel! You can also read Antonia Llyod's interview with Michelin Green Star chef  Chantelle Nicholson who is a benchmark when it comes to sustainable restaurants and food in the UK. 
View all news